Anisotropic Conductive Film (ACF) for Film On Glass for small-to-medium-sized FPDs
Anisotropic Conductive Film (ACF)
Anisotropic Conductive Film (ACF) for Film On Glass for small-to-medium-sized FPDs
Suitable for interconnection of small-to-medium-sized FPDs and film materials.
Product name

PAF700 series

Features

The particles arraying technique arrays conductive particles at the targeted positions and the particles immobilizing technique suppresses flow of them during the bonding provide stable particle capturing performance with a small number of particles.
Decreasing the number of conductive particles reduces the risk of short-circuit for fine-pitch connections.
In interconnection of COF and a panel, it provides a minimum connection area of 1,000 µm2 and a minimum space of 5 µm.
0.6 mm product width available.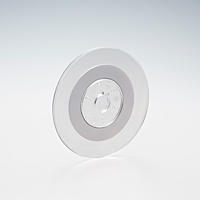 Product name
PAF700 series
Type
FOG/FOP
Connection material
COF
Glass substrate/Flexible substrate
Minimum space [µm] *1
5
Minimum connection area[µm2] *2
1,000 to 1,500
Thickness [µm]
10
Conductive particles
Type
Ni plating on a polymer particle
Particle diameter [µmФ]
3.2
Insulation coated particle
Yes
Main bonding conditions
Temperature [℃]
160 to 180
Time [sec]
5
Pressure [MPa] *3
3 to 8
*1




Minimum space: Space between adjacent circuits.

*2




Please contact us for information on σ value control of the minimum connection area for each product individually.

*3




Pressure of main bonding: The pressure at COG bonding is described as the total area of bumps. The pressure at FOG, FOB and FOF bonding is described as the bonding area.
Interconnection of electrodes of a small-to-medium-sized FPD and COF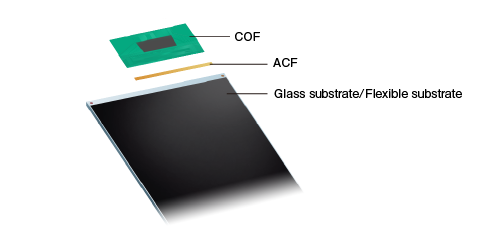 1.Visual comparison during ACF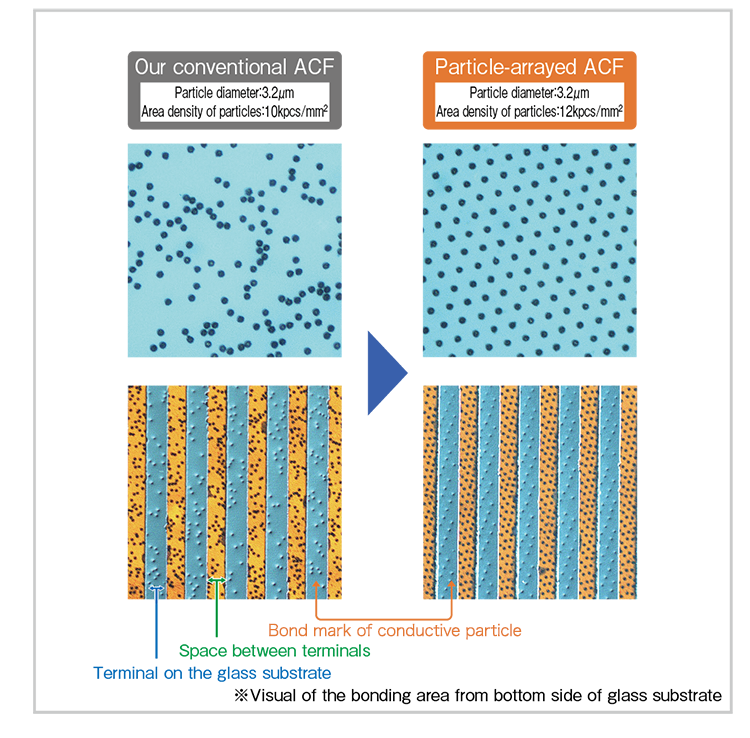 2.Comparison of the numbers of captured particles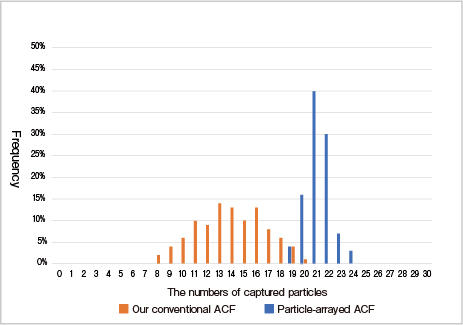 FPC terminal size:Terminal width: 8 µm; space: 12 µm (pitch: 20 µm)
Glass substrate :Thickness of 0.6 mm
Conductive area: 8μm × 300μm = 2400μm2 
Bonding conditions :Temperature of 170°C, time of 5 sec., pressure of 4.5 MPa
Note on the characteristic data given - Data on the characteristics of the products described in this page based on the results of evaluations carried out by the company. This does not guarantee that the characteristics of the product conform with your usage environment. Before use, review the usage conditions based on evaluation data obtained from the equipment and substrates actually used.
---