Anisotropic Conductive Film (ACF) for Film On Board for automobile
Anisotropic Conductive Film (ACF)
Anisotropic Conductive Film (ACF) for Film On Board for automobile
Compliant with the IATF16949 standard and suitable for mainly medium-sized Film On Board (FOB)
Product name

CP881AM series

Features

Lower temperature profile and low height interconnection with fine pitch can be achieved by ACF connection for Flex on Board compare to mechanical connectors.
Excellent connective reliability.
Pb-free compatibility for environmental-friendliness.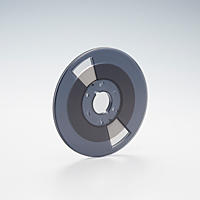 Product name
CP881AM series
Type
FOB/FOF
Connection material
FPC
PWB
Minimum space [µm]*1
100
Minimum connection area [µm2]*2
100,000
Thickness [µm]
35 or 45
Conductive particles
Type
Au/Ni plating on a polymer core particle
Particle diameter [µmФ]
10
Insulation coated particle
No
Main bonding conditions
Temperature [℃]
180 to 200
Time [sec]
10 to 15
Pressure [MPa]*3
2 to 4
*1

Minimum space: Space between neighboring circuits.

*2

Please contact us for information on σ value control of the minimum connective area for each product individually.

*3

Pressure of main bonding: The pressure at COG mounting is described as the total area of bumps. The pressure at FOG, FOB and FOF mounting is described as the bonding area.
Replacing connectors / soldering interconnect.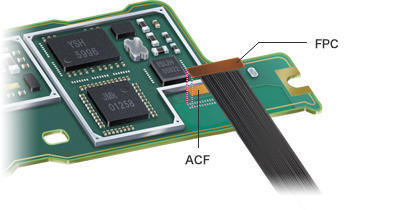 Note on the characteristic data given - Data on the characteristics of the products described in this page based on the results of evaluations carried out by the company. This does not guarantee that the characteristics of the product conform with your usage environment. Before use, review the usage conditions based on evaluation data obtained from the equipment and substrates actually used.
---