Overview of Dexerials Technologies
Overview of Dexerials Technologies
Our vision, "Value Matters. Unprecedented innovation, unprecedented value ", reflects our wish to contribute to society through providing new values. Under this vision, we are making continuous efforts to develop unique products for the changing needs by fusing and evolving our core material, process, analysis and evaluation technologies.
"Fundamental development" and "Product development" compose our Research & Development System.

1. Fundamental development
Develop and utilize elemental technologies for introducing new products, while collaborating closely with groups in charge of exploring social needs and new business partners.
Also, supporting all Dexerials development activities by using various sophisticated analysis tools and simulation methods.

2. Product development
Product development belonging to business units are engaged in activities for continually improving functions of key products, such as optical film, liquid adhesives, adhesive film, electronic devices, optical devices, and materials for environmental and life science purposes.


"R&D Exhibition" is held regularly at Dexerials for all engineers to share various progress achieved by the above two systems. Engineers can discuss on many R&D topics which helps engineers to improve their skills further.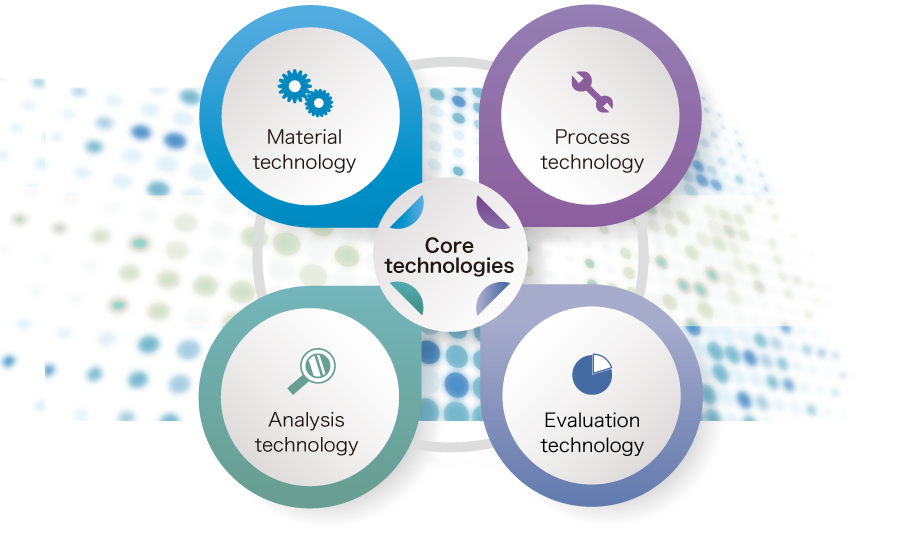 Material technology

Development of functional materials, such as liquid and film bonding materials, magnetic materials and optics materials, to be used for latest electronic and communication devices.

Process technology

Organic and inorganic synthesis, coating and slitting, vacuum thin film formation and surface finish are some of the many process technology required for producing new functional materials.

Evaluation technology

Investigate purpose-matched evaluation methods, calibrate and manage measuring instruments properly to ensure data reliability, and analyze data statistically.

Analysis technology

By using various high sensitivity & resolution equipment, technical experts with specialized knowledge apply optimal analysis solution to fix problems.
Research & Development Locations
In 2017, approximately 80% of R&D engineers were assembled in Tochigi Technology Center. This Center is equipped with function-specific laboratories where engineers, engaged in similar fields but belonging to different business units, can gather easily for consultation and discussion.
This Center is also coordinating with R&D facilities in Tagajo Plant and Dexerials Precision Components Corporation, where development of optical, inorganic and electronic devices are taking place.
Tochigi Technology Center

Tochigi Technology Center is home to approximately 80% of R&D engineers engaged in fundamental development and product development. Most of R&D topics in Tochigi Technology Center are related to Organic material and high-performance film products using such material.

Tagajo Plant

R&D for roll to roll nanoimprint technology using photolithography and ultra-precision cylindrical mastering process.

Dexerials Precision Components Corporation

R&D for Inorganic material synthesis and growth, optical devices using photolithography and ultra-precision machining technologies.