Infra-Aid™ is a brand of leak repair products developed specifically for repair and maintenance of infrastructure equipment.
"UVS-1000C" UV curable Sealant
Ideal for emergency repair of oil leaks on electrical equipment or other infrastructure. When applied to oil pipe or flange leaks on aging or deteriorated equipment, it incorporates and integrates surface oil to bond tightly with the part repaired. Instant curing after at least one second of UV exposure stops oil leakage and prevents leak paths from developing.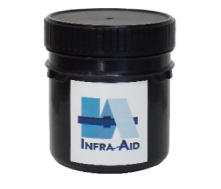 Bonds even to slightly oily surface
Sealant itself blends with and incorporates residual oil, allowing the sealant to come into contact with the bonding surface of the pipe to ensure adhesion to oily surfaces
Formulated for optimal viscosity when applied
Ideal fluidity to resist sagging on vertical surfaces yet become runny to flow into small gaps
Cures quickly with UV
Effective in preventing leak paths from developing
Significantly saves the working time compared to epoxy-based repair materials
Removable after repair
Sealant hardness is designed to enable removal by chipping

Oil leaks : Can be used for infrastructure equipment repair where complete removal of leaking oil or residual surface oil has been difficult.
Electrical equipment: ∙ Transformers ∙ Shunts
Parts where oil leaks: ∙ Flanges ∙ CT-boxes ∙ Bushing cementing ∙ Weld pinholes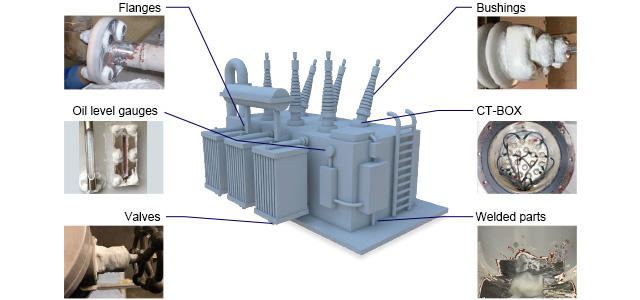 Surface
preparation
(sanding/
cleaning)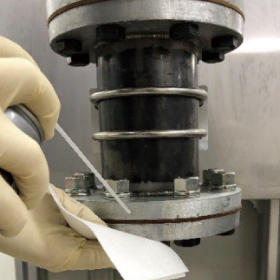 1. Prepare surfaces by removing old paint, rust, and grease
Clean and degrease leaking parts.
Remove paint and rust in advance.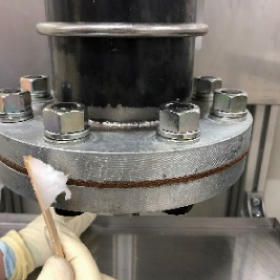 2. Apply the sealant
Apply the sealant to affected parts.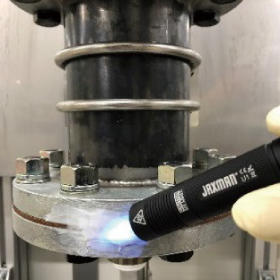 3. Cure with UV exposure
Immediately cure by exposing to UV light.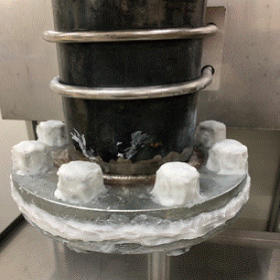 4. Apply and cure additional coats
Repeat steps 2–3 to apply at least two coats of sealant.
Work Instructions (Video)
Product name
UVS-1000C
Type
1 component UV curable acrylic
Property(Uncured/Cured)
White viscous liquid / White solid
Adhesion to various materials *1
Good
Stainless steel, Cast-iron, Rigid PVC, Acrylic (PMMA),
Glass, Galvanized steel, Carbon steel, Brass, Aluminum
Fair
Olefin resin (PP, PE)
Very poor
Silicone resin, Fluorine resin
Breakdown voltage [KV/mm] *2
52
Shelf life
2 years from the date of manufacture
(stored unopened at room temperature in a dark place)
Net weight
200 g
Container
Lid:PP Body:PE
*1

with #1000 sanding

*2

Conforming to ASTM D149
1.Adhesiveness to oily surfaces
Test Piece Condition
Adherend: Stainless steel plate (SUS 304), 1000-grit sanded
Cured sealant: UVS-1000C, 1 mm thick, in a diameter of 6 mm
Shear test speed: 0.2 mm/s
Curing conditions: 1 J/cm2@ 365 nm
Steel plate was immersed in hexane solution containing HV Insulating Oil A.
Prepared with a layer of oil by removing the plate and drying the hexane.
Sealant was applied to the steel plate with oil film and cured by UV exposure.
Strength was measured by scratching the cured part horizontally with a shear tester.
Results
Item evaluated
Results
Adhesion to oily surfaces
Shear strength
HV Insulating Oil A
concentration
0 wt%
(No oil film)
8 MPa
15 wt%
6 MPa
2. Oil resistance (oil absorption of cured parts)
Item evaluated
Results
Notes
Oil resistance
(oil absorption of cured parts)
HV Insulating Oil A
< 0.5 wt%
JIS K7114
Rapeseed oil
Hydraulic oil
Manuals and Instructional Videos
Click here for any inquiry about this product