Relationships with Society
We, the Dexerials Group, under our corporate vision of "Value Matters Unprecedented innovation, unprecedented value" contribute to our customer's product value, through explore technologies, and provide high quality products and services.
Basic Policy
We challenge activities in all process of development, design, production and service to realize more attractive quality.
1.

We provide safe and reliable products, and services.

2.

We comply with relevant laws and regulations, agreement with customers, and internal standards surely.

3.

We practice steadily implementing activities to reduce risks and preventive activities.

4.

We improve professional standards and develop human resources by on the job training and education.

5.

We ensure to utilize quality management system and improve effectiveness.
Dexerials has established a process management system led by top management in order to conduct business activities in compliance with quality management systems and ensure compliance with laws and regulations and customer requirements.
Cross-organizational activities and cooperation are indispensable for achievement of the quality business plan and for realization of products. Each unit of activities that requires cooperation is designated as a business process, which is the unit for management responsibility.
In order to monitor and improve Dexerials' quality initiatives, including preventing and responding to serious quality issues, quality KPIs are set at two levels: the company-wide level and the business process level. We are conducting activities that lead to the achievement of the quality KPIs by implementing a two-stage PDCA cycle at the company-wide level and the business process level.
The achievement status of the quality KPIs set respectively and the progress of initiatives for improving them are confirmed through quality reports issued monthly and internal quality audits conducted on a regular basis. In addition, in the internal quality audit, it is confirmed whether business and field operations are conducted in accordance with legal regulations and rules, and whether manufacturing is performed in accordance with process and quality specifications. Then, problems are identified and reported to top management.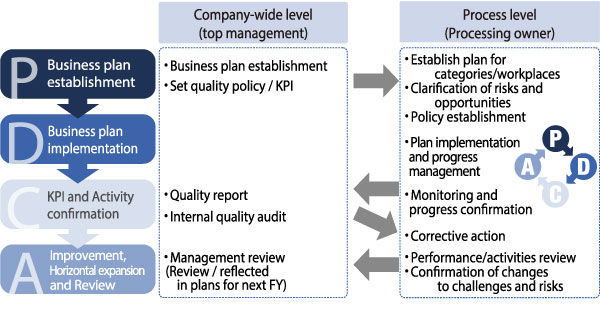 Process management operation chart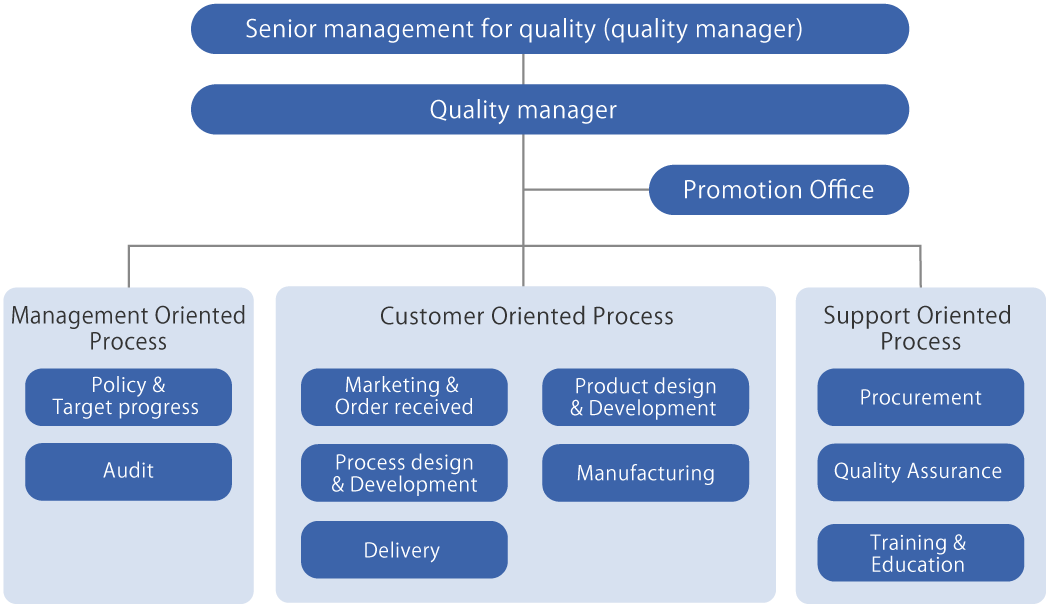 Process Management Structure
Acquisition status of quality management system certification
All the manufacturing sites of the Dexerials Group have obtained ISO 9001 certification for quality management systems that provide the basis for promotion of the quality philosophy and the basic policy and for business activities, such as design, development, manufacturing, and quality assurance.
Regarding products for automotive applications, we have obtained certification for IATF 16949, a standard for the automotive industry for the maintenance of the high quality and reliability required for automobile parts and we also comply with the VDA standard (quality standard of the German Association of the Automotive Industry).
ISO9001 Acquisition status of quality management system certification
Organization
Site
Certification registration
Dexerials Corporation
Headquarters and Tochigi Technology Center
4450555
Kanuma Plant No.1
Kanuma Plant No.2
Tagajo Plant
Tokyo Office
Dexerials Precision Components Corporation
Dexerials America Corporation
38206-2011-AQ-USA-RvA
Dexerials Europe B.V.
NL019503
Dexerials (Suzhou) Co., Ltd.
CNBJ313666-UK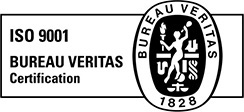 IATF16949 Automotive Quality Management System
Organization
Site
Certification registration
Dexerials Corporation
Kanuma Plant No.1
353001
Kanuma Plant No.2
392578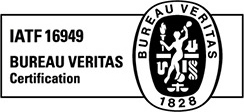 In line with our basic policy of making product safety the top priority, we test our products for compliance with a range of product safety standards and acquire the relevant certifications to ensure that products are safe for customers to use with complete confidence. Regarding the essential international standard, the UL standard (safety standards established by UL LCC, a company that enacts safety standards and conducts tests and certification), in particular, not only did we respond to the demand from customers for certification registration but also from the viewpoint of ensuring product safety, we have proactively received certification for various products in the Dexerials Group as we continue to supply safe products at the parts level.
As many of our products are in a liquid form, in order to accurately communicate product safety information to customers, Dexerials has introduced a dedicated system for preparation of safety data sheets (SDSs) and provides SDSs compliant with laws and regulations in Japan and abroad.
Promotion of DX (Digital Transformation) in quality control
The Dexerials Group is promoting DX (Digital Transformation) also in quality control, believing the advanced data utilization with cutting-edge technologies represented by AI, IoT, and data science, etc. will lead to its further growth. Based on the abundant data and knowledge which have been accumulated so far, the quality has been innovatively improved, which is leveraged to increase our competitiveness.
The Group produces a lot of roll-shaped film products. As they are continuously produced over a long time, it was a critical issue for quality control to prevent failures from occurring in series due to unexpected causes, i.e., how to realize quality failure early during the continuous production. Therefore, Dexerials developed the Automated optical inspection using image processing and the auto measuring device patented by the Company. By combining them with our unique production equipment design technology, we are striving to improve the in-line inspection (conducted simultaneously with the production) and measurement technology.
Then, based on enormous data obtained from the equipment, we addressed proprietary AI development. We also developed the system to classify defect images by defect type in real-time with high accuracy by using deep learning, as well as the system which multidimensionally aggregates results of such classification so as to analyze them from many directions. Those systems have been integrated into the existing production management system. Similarly, the manufacturing equipment supporting the production is connected with networks so as to track operation status in real-time, and sensing devices and smart devices using IoT were developed. The Company is pushing ahead with the deployment of them in production sites.With those efforts, the sophisticated quality control system has been realized, wherein quality can always be tracked in real-time, even during continuous production.
Furthermore, in order to identify points to be improved in the process and early detect malfunctions of the manufacturing equipment, the Company is analyzing data classified into tens of thousands of items in total, making efforts for further improving quality and ensuring it constantly. In addition to quality forecast and predictive maintenance, we will take on the challenge of establishing the advanced control technology based on prediction technology, such as automatic adjustment of complicated production conditions amounting to hundreds of items necessary for the production. In this way, the Company has been working with our utmost efforts toward the realization of a smart factory.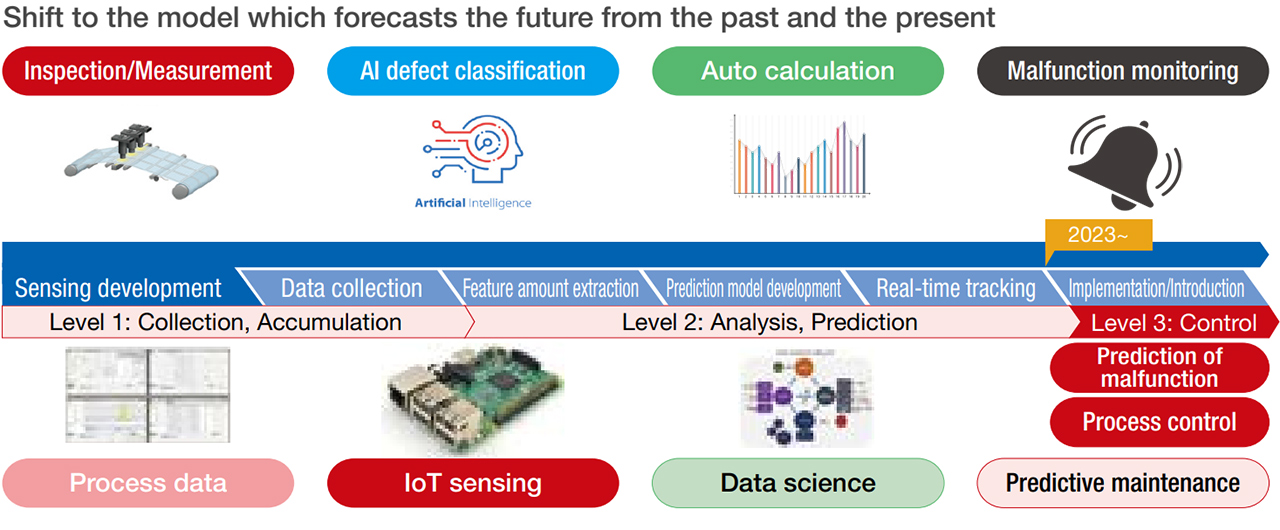 Through communication with customers, the Dexerials Group shares customer needs and technology issues.
We offer technology-based support and solutions, working toward the creation of products that respond to customers' confidence in us and deliver customer satisfaction.
In the event of quality issues that could impact stakeholders, including where there is the threat of serious quality issues and product incidents occurring, a system is in place whereby the relevant corporate department promptly reports the situation to top management so that appropriate response measures can be taken.
Regarding returns and recoveries due to complaints made by customers, an analysis is performed by specialist technical staff with advanced analytical skills, and the analytical reports and follow-up measures are promptly implemented. For defects whose causes are difficult for customers to identify, we provide technical support for the investigation of the causes using our sophisticated analytical capabilities.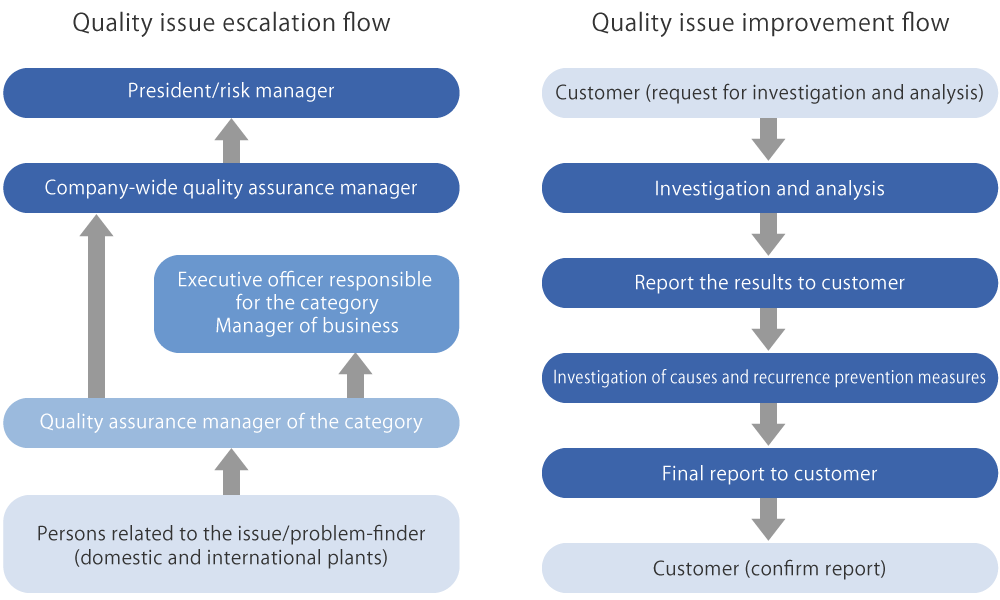 Technology Education and Human Resource Development
At Dexerials, based on the human resource strategy with the objective of developing specialists, we are developing human resources who have excellent quality management capabilities.
We have produced a road map for quality training that clarifies the quality management knowledge required in each post in a wide range of levels, from new employees to specialist technicians, and training that covers the basics through to expert knowledge and tools is provided for all divisions. In the basic quality control training, which we position as the most important quality control training at Dexerials, the following comments were raised by young employees who participated, and they show that the training leads to a better understanding of the basic concept of quality. "I understood the importance of a perspective of quality in a broad sense, which is to control the quality of operation as well as the quality of products." "I learned what quality is, and the importance of quality control for making good products speedily at low cost." "I reaffirmed the importance of providing quality assurance to the next process and customers by everyday inspection."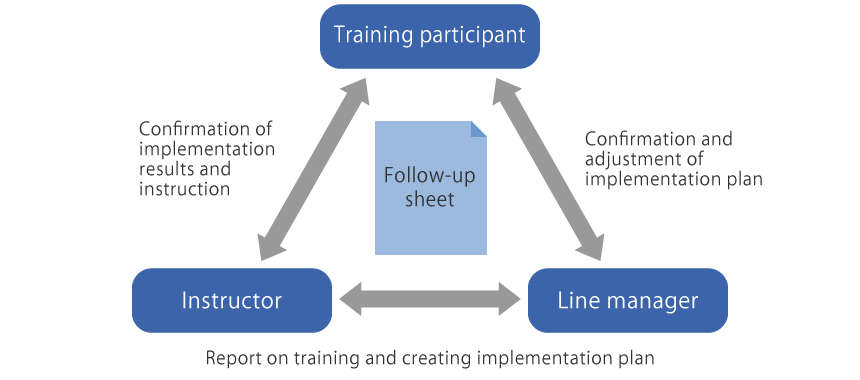 Training follow-up system
On the other hand, since large part of the knowledge and tools required for quality control are universally used in a variety of work, not just in manufacturing, it has long been our agenda to ensure that these tools can be implemented immediately. We therefore provide follow-up support from confirmation of implementation status to instructions while encouraging training participants, line managers and instructors to communicate with each other. For communication of the three parties, a follow-up sheet that clarifies PDCA cycle is used to further ensure learning.
To further improve employees' quality management capabilities, Dexerials encourages them to take the Quality Management and Quality Control Examination (examination regarding knowledge of quality control held by the Japanese Standards Association) that objectively determines the level of knowledge regarding quality. Wide range of employees including managers engaged in quality management, workplace leaders and development engineers are actively taking the test.
Training programs at manufacturing sites include "manufacturing basic training" centering on the necessary approaches to engage in manufacturing, "manufacturing technical training" to learn improvement techniques, and "manufacturing management training" to learn daily management at work locations. In addition, to enhance skills for maintenance and preventative maintenance of production facilities, we conduct on-the-job training (OJT) for self-maintenance. Employees are also encouraged to acquire the machine maintenance technician qualification (national qualification attesting to machine maintenance skills).
In order to prevent corporate scandals related to quality that have been an issue recently, Dexerials provides all employees training on compliance regarding quality and corporate ethics, which is the basis of correct decisions and actions.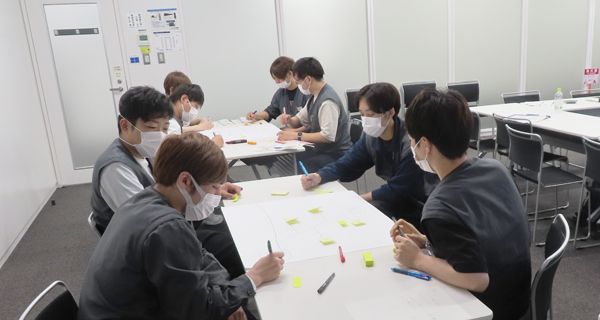 Quality control training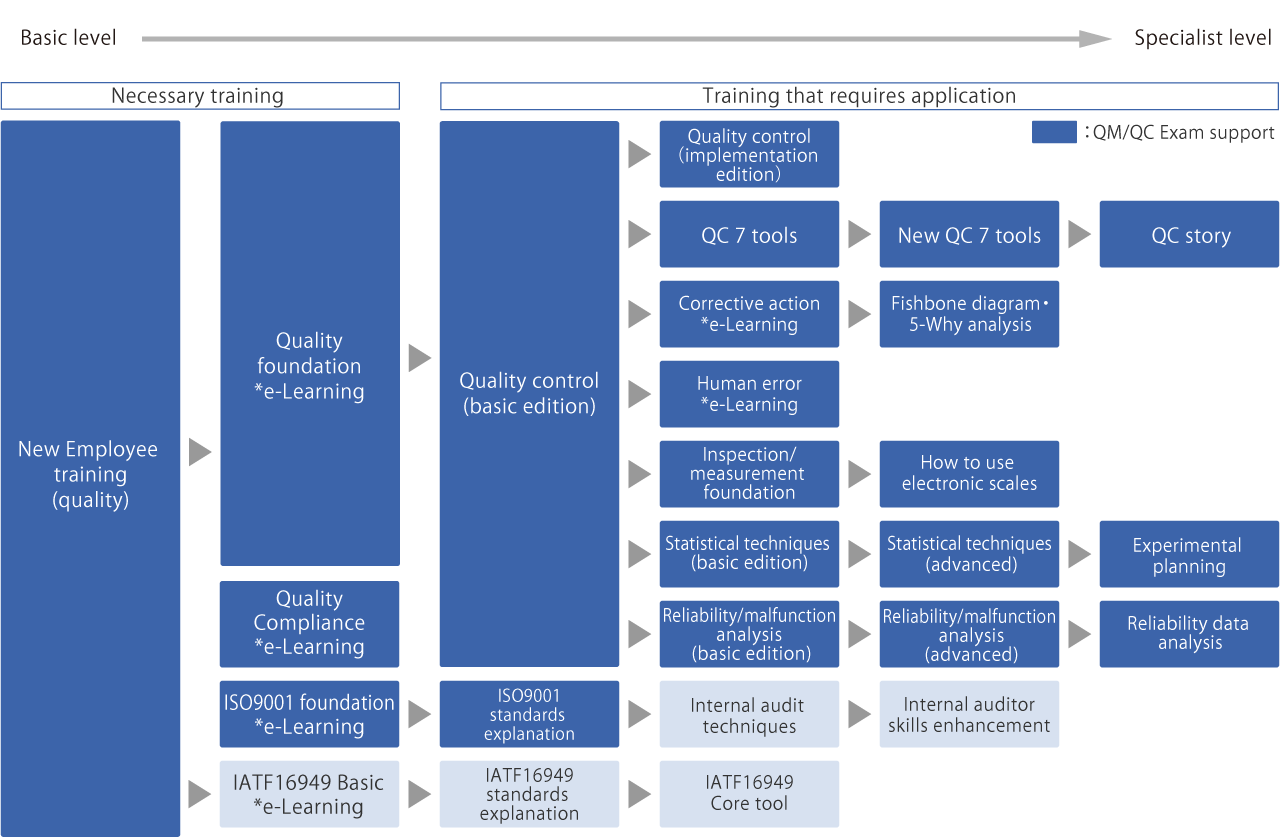 Quality training road map