Relationships with Society
Health and productivity management
Health and productivity management
Declaration of Health and Productivity Management
Dexerials' corporate philosophy is "Integrity - Have Integrity and Sincerity", and in accordance with this, we aim to remain an enterprise that lives up to the expectations and trust placed in us by all stakeholders, and provide opportunities to employees to fully demonstrate their capabilities.
In order to achieve this aim, we believe it is essential that all employees are physically and mentally healthy.
Dexerials will continue to promote workstyle reform and work on efforts toward creating an environment where our employees can demonstrate their abilities by maintaining their health and working safely. We will also promote health care of each and every employee in cooperation with the Dexerials Health Insurance Association.
Five Initiatives of Health and Productivity Management
1.

Initiatives for preventing lifestyle-related disease

2.

Initiatives for mental health care

3.

Initiatives to stop smoking

4.

Initiatives for health care of middle-aged and elderly people

5.

Initiatives to ensure compatibility of medical treatment and work
Organization Structure for Health and Productivity Management
Dexerials will promote company-wide health and productivity management with an organization structure in which the President is the chief Health and Productivity Management officer.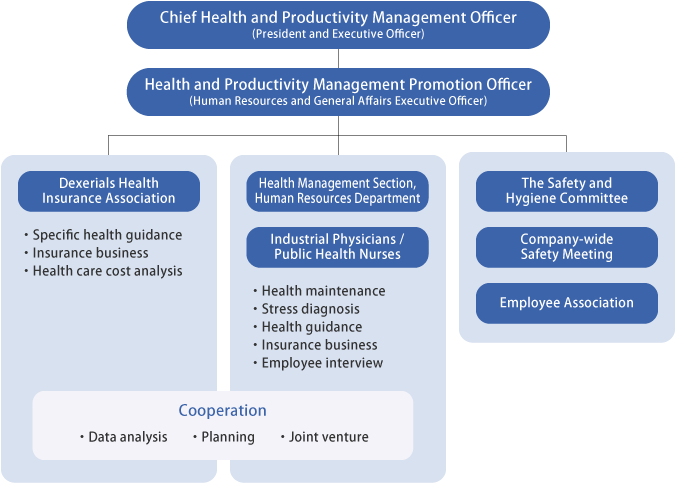 Promotion of health and productivity management
We believe that the good physical and mental health of each and every employee will lead to the good health of the Company and, in turn, to the realization of our Corporate Philosophy and the enhancement of corporate activities. At the Company, the health care section and the health insurance association convene regular meetings of the Health Management Committee and work together on health-enhancing measures. We are promoting the health of our employees from the dual angles of a population approach, which aims to gradually reduce the health risks for all employees, and a high-risk approach, which conducts thorough follow-up examinations of high-risk employees based on the results of the annual medical check-ups.
Initiatives to Support Health Promotion
We are conducting various initiatives in cooperation with the health care section, the health insurance association, the Employee Association, and the Human Resources and General Affairs divisions to maintain and promote employee health.
The survey of employees' awareness about the improvement of lifestyles conducted for all employees each year shows that the ratio of respondents working to improve their lifestyle is increasing year by year. According to the fiscal 2020 survey, 28% of our employees are continuously working to make their lifestyle more healthy.
In fiscal 2020, we co-organized an e-learning program featuring health promotion sessions with the health insurance association, which the participants were able to continue even under the COVID-19 pandemic. A total of 2,079 people participated in the program.
We hope to see more health-conscious employees who are able to voluntarily practice activities to improve their lifestyles, and to that end we will continue our initiatives aimed at raising employees' health awareness.
Sleep Survey of Shift Workers
In fiscal 2020, we focused on the sleep issue of shift workers and conducted a company-wide sleep survey targeting all shift workers. The survey revealed that 94% of the respondents were experiencing some sort of sleep problem. Following the survey, a sleep improvement program was provided to those who wished for one month, which helped some participants understand their sleep habits and challenges through visualized data and increased their consciousness for sleep.
Overwork physical examinations are conducted as a countermeasure against excess work in addition to regular physical examinations and special physical examinations based on the Industrial Safety and Health Act. Applicants over the age of 35 undergo thorough medical check-ups, which leads to the early detection and prevention of lifestyle diseases. Industry physicians check the results of the health diagnoses of all employees, and industry physicians and public health nurses conduct follow-up checks such as individual appointments and medical consultation promotion for recommended individuals. In addition, in cooperation with health insurance associations, in-company dental checks are conducted every year, and dentists provide check-ups and brushing instructions, which leads to the early detection or prevention of oral diseases among employees.
Dexerials Walk and Pre-check-up Challenge
In cooperation with the health insurance association, we have been holding twice-yearly health events aimed at raising awareness of exercise habits and lifestyle improvements.
We held Dexerials Walk, a month-long walking competition event, in FY2020 as we had in the previous year. Some participants voiced their willingness to continue walking beyond the event period, so the event period was extended by one month for those who wished to join. The event succeeded in inspiring our employees to voluntarily practice activities to improve their lifestyles.
Emphasis on Mental Health: from Stress Checks to Improvement
As addressing mental health issues is becoming increasingly important, we are implementing meticulous measures including self-care, daily care by line managers, and counseling by industrial healthcare staff as measures to address employees' mental health issues and initiatives to support employees returning to work, and to improve the workplace environment.
With the increasing adoption of remote work in view, we will watch out for new types of issues and continue taking measures that place importance on communication.
Based on the revised Industrial Safety and Health Act, all employees have been undergoing stress checks since 2016. The checks raise individual employees' awareness of stress and how to deal with it. The health and safety committee also notifies industrial physicians of the results of group analysis. Furthermore, we focus on workplaces that have demonstrated issues, our HR and industrial health staff are discussing and conducting measures with workplace superiors, and we are monitoring changes and implementing the PDCA cycle. Going forward, we aim to understand issues through detailed analysis, and use this to improve workplaces in order to create pleasant workplace environments.
All management level employees participate in an annual workshop held by industry physicians with regard to health-related laws that are of importance to managers, safety consideration responsibilities, and the role of managerial employees in mental health.
Moreover, considering that mental health management and early detection of unwellness are essential not only for managers but also for workplace leaders, Dexerials added a mental health management examination (Type II line care course) to requirements for promotion of middle-rank employees in fiscal 2019.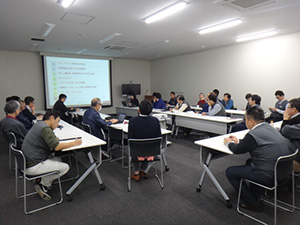 Mental health classes
In order for employees to be rid of worries and to createa system for immediate consultation, a free external counselling office has been established. By establishing various consultation systems inside and outside the company with industry physicians, public health nurses and clinical psychologists, we promote mental health countermeasures in the "Four Cares" (self-care, line care, care from workplace healthcare staff and care from resources outside the workplace) as indicated in the Ministry of Health, Labour and Welfare's guidelines for maintaining and promoting the psychological health of employees.
We promote quit-smoking activities from an environmental perspective, such as designating building interiors as no-smoking zones and establishing smoking hours, and we work with health insurance societies to run activities to support quitting smoking for staff that wish to do so. We cover all expenses for staff that attend clinics to quit smoking and 80% of participants in fiscal 2018 managed to quit.
Furthermore, the safety and hygiene committee, etc., regularly arranges lectures by industrial physicians about smoking and health, and conducts blood flow measurement and anti-smoking education on World No Tobacco Day.
Going forward, we will continue our anti-smoking activities with the aim of improving the health of our employees.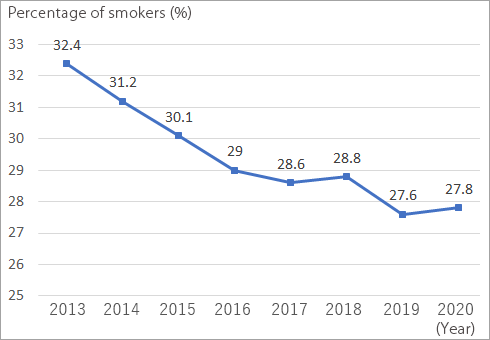 Trends in percentage of Dexerials employees who smoke
Lunch at the company cafeteria is a relaxing time for the employees and it provides a venue for an important meal that forms the basis of health promotion. Company cafeterias at each site provide information about health, such as introducing healthy menus to promote staff health, providing low-calorie, nutritionally balanced menus, and providing table-top advertising and information.
Furthermore, we hold health events and health seminars through tie-ups with cafeteria operators at cafeterias.
At health events, employees gain an understanding of their own health status through blood flow measurement, bone density measurement, and simple locomotion checks, etc. and these initiatives provide employees with an opportunity to examine their lifestyle habits.
With regard to health seminars, we work with health insurance societies to hold RIZAP Health Seminars for employees to engage in enjoyable health improvement activities. Monthly yoga classes are held at the Nakada Plant with the aim of maintaining and improving health.
Furthermore, we conduct "healthy challenges" for employees and their families, in conjunction with health insurance societies. Employees and their families challenge themselves to improve their lifestyles and health, such as walking, quitting smoking, losing weight, and hand-washing and gargling for children.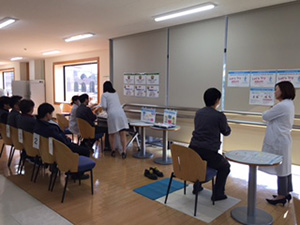 Health Event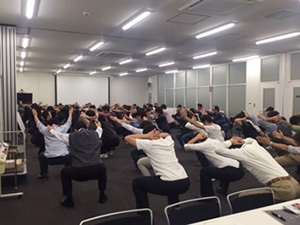 RIZAP Health Seminar
In-house refreshment spaces
In order to be a company where employees can work with enthusiasm, and to create an environment and provide structure so that employees take an interest in their own health and grow together with the company, a space for refreshment and light exercise was set up at each sites.