Relationships with Society
Contribution to Local Communities
Activities to restore the greenery in Ashio
Since 2009, we have supported NPO Grow Green in Ashio in their initiative to plant one million trees in the mountains of Ashio. As a member of the NPO, we have assisted afforestation through nurturing saplings, planting, weeding, thinning, and so on. Restoration work of the Ashio forest has been ongoing for approximately 100 years; however, only a small area has yet been rejuvenated. Continuous efforts by many people are needed in order to restore this forest. Dexerials is providing support for these activities from various angles, including not only tree-planting activities but also the provision of fallen leaves to create good soil as well as event support. Dexerials employees visited Ashio copper mine in order to see and understand the serious damage caused by pollution. We believe this was an important opportunity for us to learn about the social responsibility in the company's activities. We will continue to proactively work on environmental conservation activities alongside employees.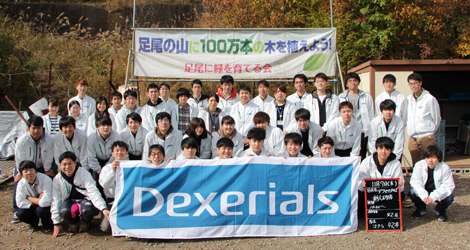 New employee environmental study and training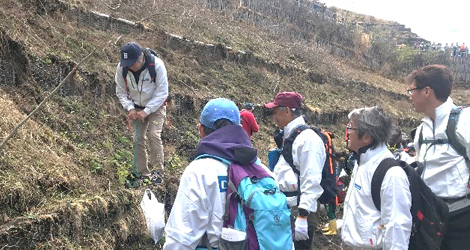 Spring Ashio Tree-Planting Day
Protecting the environment of Watarase Reservoir
Since 2017, Dexerials has been a registered corporate member of Watarase Knights Club, which is organized by Tochigi City for nature conservation. We have been participating in and extending cooperation for activities to protect biodiversity and natural environments while maintaining bountiful ecosystems of Watarase Reservoir, which is registered as a Ramsar Convention wetland.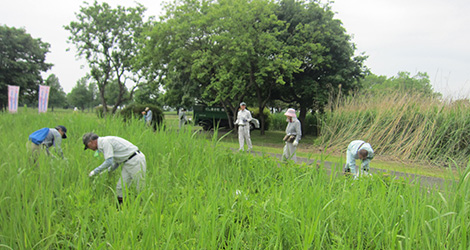 Scenes of an activity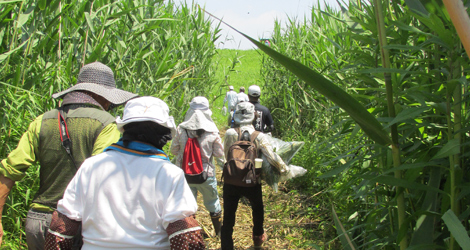 Watarase Reservoir
Our employees plant colorful floral displays in our plants so as to encourage environmental awareness not only among employees, but also with local residents. At Dexerials Precision Components Corporation, we plant new flowers in June and November. The flower seedlings are provided by local facilities which employ people with disabilities, and in purchasing them, we also contribute to their activities.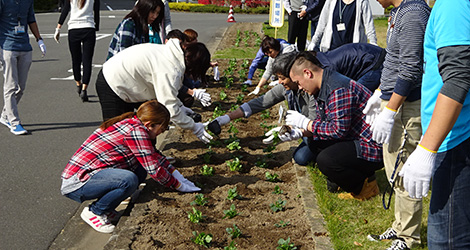 Dexerials Precision Components Corporation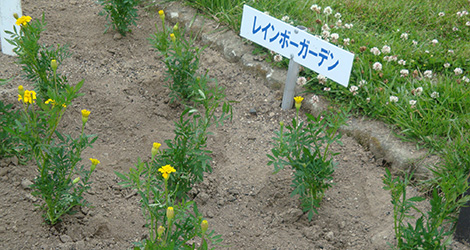 Dexerials Precision Components Corporation
Clean-up Activities in Local Communities
Tochigi Citizens Environmental Improvement Movement
At the Headquarters and Tochigi Technology Center, we participated in the Tochigi City-organized "Tochigi Citizens Environmental Improvement Movement" where volunteers including Dexerials officers collected garbage from roads around the plant and along paths running alongside National Route 4.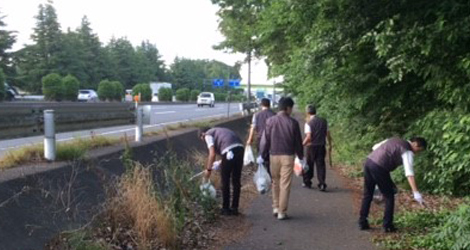 Clean-up activities in Tochigi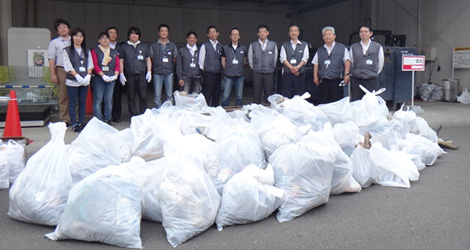 Clean-up activities in Tochigi
Miyagi Smile Road Program
The Dexerials Precision Components Corporation participates in the Miyagi Smile Road Program to perform environmental improvement activities such as weeding and cleaning, and it conducts cleaning activities every year for the prefectural road in front of the Plant, which is part of the course of the Junior High School Road Relay Race held by Tome City where the Plant is located.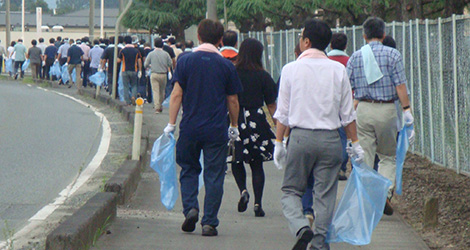 Clean-up activities in Dexerials Precision Components Corporation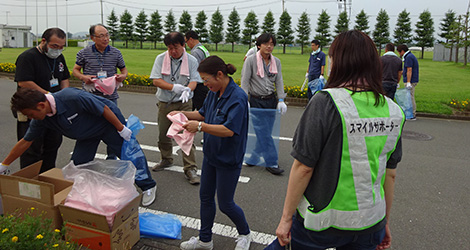 Clean-up activities in Dexerials Precision Components Corporation
Local cleaning activities at overseas sites
Dexerials Group engages in activities as a corporate citizen that takes an interest in and makes contributions to the regions where we work, even overseas. Dexerials (Suzhou) Co., Ltd. has continuously engaged in community cleanup activities.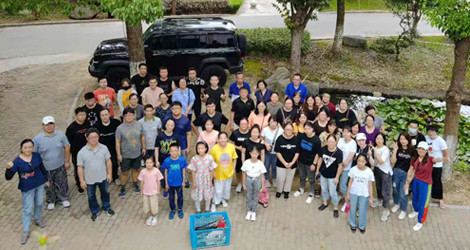 Dexerials (Suzhou) Co., Ltd.
Participation in the Local Community
Tome City Industry Festival
Dexerials Precision Components Corporation exhibits at the Tome City Industry Festival every year. We hold panels introducing our products and technology to explain the details of our business to people in the community. We also set up the interactive corner where visitors can experience the manufacturing process, which is very popular with children and adults alike.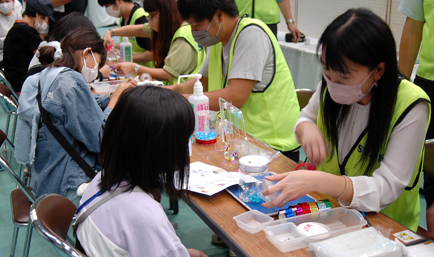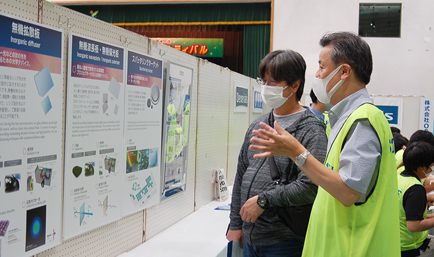 Youth Development / Crime Prevention Activities
Dexerials Kanuma Plant is conducting initiatives such as health development activities for youth, and education for the elderly to prevent harm due to fraud, in conjunction with the Kanuma Workplace Police Liaison Committee. Our activities have been well-received and we received a Superior Worksite award at the Tochigi Police Liaison Conference held on 8 November, 2019, by Tochigi Police Headquarters, which is responsible for the Kanuma area.
Supporting Utsunomiya Blitzen
Since 2015, we have been sponsoring Utsunomiya Blitzen, a community-based professional cycling road race team from Tochigi. This sponsorship aims to vitalize the local community and promote cycling sports. In addition to participating in managing the event held in Tochigi, we also hold the "Dexerials presents Utsunomiya Blitzen Cycling School" event for children of elementary school age and younger. The morning session is for children aiming to be able to ride bicycles without training wheels, and in the afternoon session, the focus is on how to safely enjoy riding bicycles, and in this way, we support creating a safe and fun environment in which children in the local community can enjoy bike-riding.
We also conduct Clean-up Cycling, which seeks to raise awareness of local environmental improvement through cycle sports. This activity attracts many participants, including cycling enthusiasts.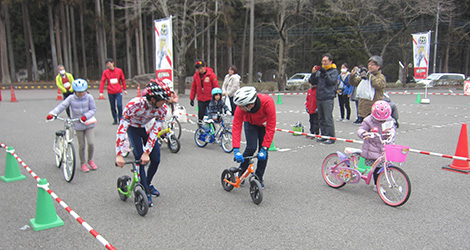 Cycling School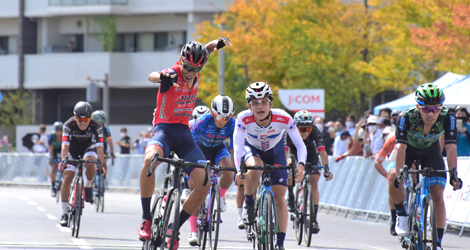 Utsunomiya Blitzen
Dexerials Cup Miyagi Prefecture Champions Cup U-12 Tournament
Since 2013, we have conducted support activities in Sendai, where the Tagajo Plant is located, in the hope of contributing to the advancement of amateur support, the energization of the local community, and the healthy development of young people. Each year, we co-sponsor the "Dexerials Cup Miyagi Prefecture Champions Cup U-12 Tournament" held by the Miyagi Football Association.
Dexerials looks forward to continuing this in the future to bring smiles to as many children's faces as possible.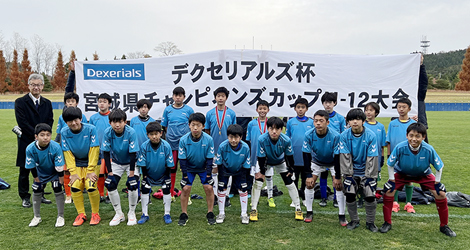 Miyagi Championship Cup U-12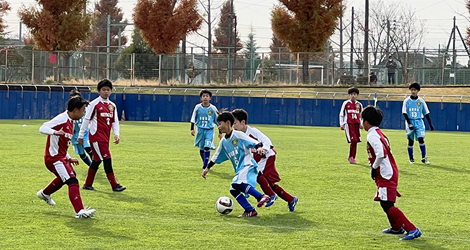 Soccer match
Donations and Contributions
Donating medical face shields
During the COVID-19 pandemic, we donated medical face shields to local governments (Miyagi Prefecture, Kobe City, Hyogo Prefecture, Kanuma City, Tochigi Prefecture) and Jichi Medical University Hospital (Shimotsuke City, Tochigi Prefecture).
Dexerials Hong Kong Limited also donated 100 face shields made by its employees as a volunteer initiative to Hong Kong Christian Service, a non-governmental organization that conducts a wide range of activities from aesthetic sensitivity education for youth to elderly care.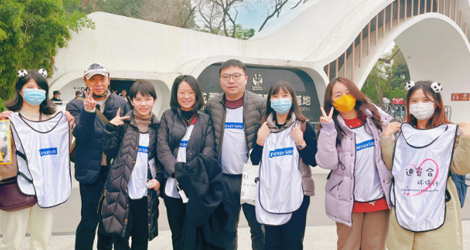 Certificate of appreciation from Kobe City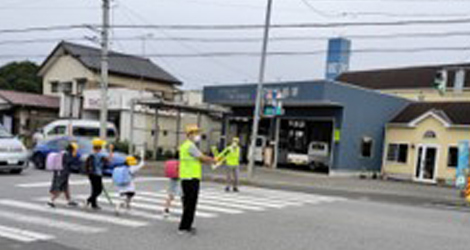 Employees making face shields
At Dexerials Korea Corporation, our affiliate company in South Korea, we collect unwanted items such as clothing, shoes, and home appliances from employees, sell them to volunteer groups, and donate the profits. People with disabilities in the volunteer groups then process these goods for re-use. We participate in these activities with the objectives of recycling goods, contributing to job creation for those with disabilities, and donating funds. We will continue to proactively engage with interest in activities that contribute to local communities.
http://www.goodwillkorea.com/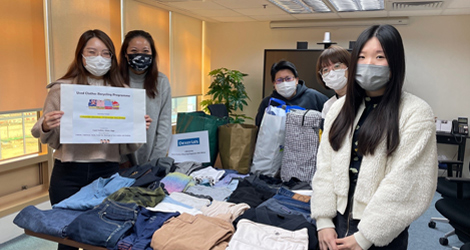 Activities by Dexerials Hong Kong Limited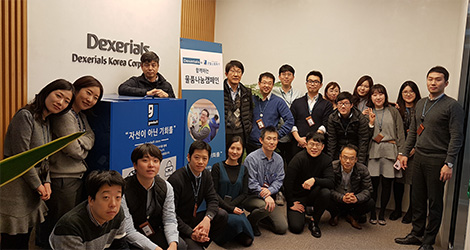 Activities by Dexerials Korea Corporation
The TABLE FOR TWO program (referred to hereafter as TFT) is a program which crosses time and space to share a meal between participants in developed countries and children in developing countries. When employees choose healthy TFT menus in the company cafeterias, 20 Japanese yen, which is equivalent to the cost of one school meal in a developing country, is donated for every meal purchased to support school meals for children in need. The TFT program allows employees to pay attention to their own health and engage in social contribution easily, while also providing opportunities for children in developing countries to go to school for lunch where they will also receive an education.
School lunch for children in Africa TABLE FOR TWO Web Site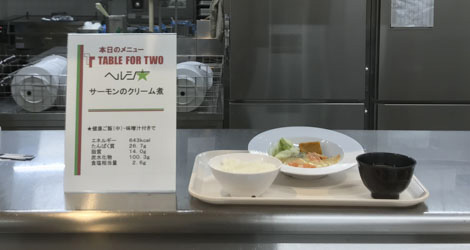 Healthy Menu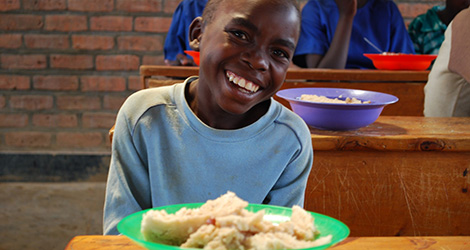 Photo by:TABLE FOR TWO
Dexerials Hong Kong Limited participates in "Skip Lunch Day," an initiative to donate the cost of a lunch to support communities with poor living conditions.
Dexerials Hong Kong also participates in "Love Teeth Day," an initiative organized by the Community Chest Hong Kong, in order to raise employees' health awareness while collecting donations to support dental care for those in poverty.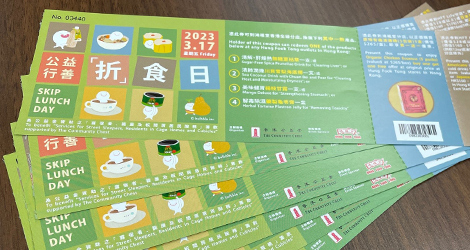 Participation in Skip Lunch Day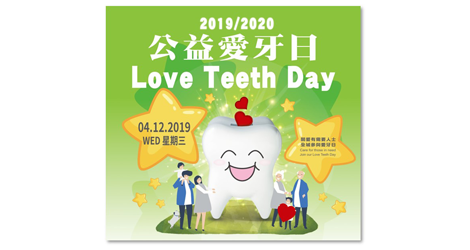 Participation in Love Teeth Day
As the COVID-19 pandemic began in 2020, Dexerials Korea Corporation donated to the Hope Bridge Korea Disaster Relief Association through the Seoul Japan Club in order to support medical institutions and infected persons in South Korea.
We conduct blood donation activities at the headquarters and Tochigi Plant twice a year, and many employees assist by giving blood. In fiscal 2020, the headquarters and Tochigi Plant were presented with a certificate of merit by the chairperson of the Tochigi Prefecture Blood Donation Promotion Association. We will continue to promote this volunteer activity in local areas.