Relationships with Society
Human Resource, Diversity, Workplace
human resource development
At Dexerials, we have established a basic policy for human resource development in order to realize the Corporate Philosophy, "Integrity Have Integrity and Sincerity," and the Corporate Vision, "Value Matters Unprecedented innovation, unprecedented value." We want employees to work autonomously and we provide various activities to support this.
Dexerials' basic policy for human resource development
We believe that the development of each and every employee is to be most important.
We want employees to continue developing by learning for themselves, thinking for themselves, and acting for themselves.
We conduct activities to support employee career development.
To support employees in acquiring expertise and becoming professionals that can create new value, we have introduced a "job family-job category" system. In order to enhance career development in each job family, employees are assigned to one of four job families: manufacturing group, technology and development group, sales group, and planning and management group. In each job family there is a human resource development manager, and various types of support are provided, including planning and implementing training to enhance a specialty, and career interviews so that employees can take the lead in forming their own careers. In the first year of employment, senior employees (tutors) conduct follow-ups with new employees, and then career design training is undertaken every year. Career support activities are therefore provided for employees at every stage.
We work to develop personnel who can take on responsibilities in the future, by providing diverse training programs that create an environment where individuals can demonstrate their capabilities. In addition to business skills training and stratified education program (training), we provide training and self-development programs for employees to acquire the knowledge and skills required in each job family. Meanwhile, preventing harassment and ensuring compliance are among the subjects of various e-learning programs that Dexerials offers year-round. Going forward, we are committed to cultivating human resources that will carry the next generation, aiming to strengthen global human resources and technology development and enhance our organizational capabilities.
Stratified education program(training)
Pre-assignment training for new employees
New employee follow-up training
Training three years after joining the company
Training for promoted employees
Management training
General manager training
Base skills training
Communication training
Mental health training
Management skills training
Global training
Cultural communication training
Pre-appointment language training
Specialist education S
Training for each job family(Manufacturing , Technology and development, Sales, Planning and management)
Ability for business execution skills training
Legal education
Quality education
Self-development
Correspondence education
Video library
Career education
Life & career design training
Development throughout the work period
At Dexerials, throughout the career period, we provide diverse training programs and engage in human resource development. In terms of stratified education programs (training), we conduct training in line with the career stage of employees by providing training three years after joining the company, and for promoted employees and managers.
Training three years after joining the company
With the objective of immediate independence and active use of abilities inside and outside the company, we conduct training when joining the company and follow-up training six months afterwards. The content of this training forms the basis of being a member of society and supports an attitude and development toward independent learning. Furthermore, three years after joining the company, we support development and ability development for young people by providing training to learn to work independently and to develop junior employees.
Training for promoted employees (developmental training)
We provide training for employees not only to take on their roles and to have the abilities for business execution that are required when being promoted, but also for development, by widening perspectives toward managerial positions and promoting self-study.
Management training (developmental training)
Human resources development is positioned as an important role for management alongside management of the organization and project teams, and we are conducting training in order to endow the necessary abilities and skills.
Specialist education/training for each job family
For each job family (manufacturing group, technology and development group, sales group, and planning and management group), we provide training specific to job specialization and increased skill levels. For example, in the technology and development group job family, we conduct technical training that provides a cross-sectional study of Dexerials products and technology with an awareness toward building networks among technicians.
Positive action for the appointment and development of female employees
Our female employees account for around 18.1% of all staff, and as of March 2018, their average length of service was 20 years and 2 months, against 19 years and 0 months for males, indicating that female employees also pursue longterm careers. Since 2014, we have held lectures for managerial staff on promoting active female participation and work-life balance. Combined with in-house awareness-raising activities, strict enforcement of "no overtime days" and other initiatives, this is designed to promote workstyles that make efficient use of regular work hours and support employees combining work with childcare. We have also made a declaration of support for the success of women based on the Positive Action promoted by the Ministry of Health, Labour and Welfare.
the Positive Action promoted by the Ministry of Health, Labour and Welfare.
We have put in place a system to support a successful combination of work and family life that exceeds legal requirements in terms of childcare leave and other benefits. We have introduced systems of flexible working hours and shorter working hours for childcare so that both men and women can work flexibly. There were 27 users of child-rearing support leave in fiscal 2017 (1 woman, 26 men), 8 users of childcare temporary leave (8 women, 0 men) and 21 users of shorter working hours for childcare (21 women, 0 men).
Meanwhile, we have set up a program named "wiwiw" to support a successful combination of work and family life for employees on childcare leave, and such employees can use this system to continue to access internal information, improve their knowledge, and communicate with superiors while remaining at home. For instance, the system enables e-learning courses to be taken by smartphone and enables connection to the company intranet.
For these initiatives, Dexerials has received the "Kurumin certification" as a company that supports child-rearing from the Ministry of Health, Labour and Welfare, and we are certified as a "Kanuma Company that Supports Childcare" from Kanuma city in Tochigi. We have also announced initiatives for the "Tochigi Declaration for Good Work and Good Families" promoted by Tochigi Prefecture in support of work and home compatibility.
["Kurumin" certification as a company that supports child-rearing]
Dexerials has achieved the content of the General Business Owner Action Plan devised by the Ministry of Health, Labour and Welfare, based on the Act on Advancement of Measures to Support Raising Next-Generation Children, and received the certification mark as a workplace that supports child-rearing (public nickname "Kurumin") on August 20, 2009.
Duration of the plan

April 1, 2017 – March 31, 2020 (3 years)

Action plan

1.

Promote child-rearing support leave for fathers during child-rearing or when a spouse is giving birth.

2.

Designate and enforce no overtime days in order to ensure childcare time for both men and women.

3.

Maintain acquisition of annual paid leave at levels of at least 60%.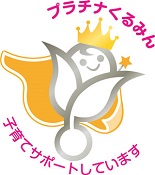 [Certification as a Kanuma Company that Supports Childcare]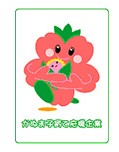 [Tochigi Declaration for Good Work and Good Families]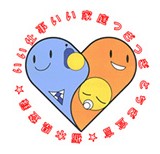 [Childcare support program]
Name of program
Outline of program
Periodic medical examinations of pregnant women
Medical examinations during pregnancy and for one year after giving birth are treated as working hours for women that fill out an application. (The number of examinations, etc. is the same as the number stipulated by law.)
Maternity leave
It is possible to take maternity leave from eight weeks before giving birth through to eight weeks after giving birth.
Childcare support leave
1) If the father of a child does not take childcare leave in the first eight weeks from birth, it is possible to take twenty days of leave from one week before the child's birth, through to April 15 in the fiscal year after the child reaches the age of one or the end of the month in which the child reaches the age of one year and two months, whichever is the later date.
2) It is possible to for mothers to take childcare support leave if they do not take childcare leave at the end of maternity leave.
Notification of birth
The time taken to submit the notification of birth is treated as being work hours.
Childcare time
Female staff members that are raising a child within one year of birth are able to take one hour of childcare time twice daily.
Childcare leave
It is possible for both male and female staff members to take leave to fully engage in childcare until April 15 in the fiscal year after the child reaches the age of one or the end of the month in which the child reaches the age of one year and two months, whichever is the later date.
If it is deemed that leave is necessary for extraordinary reasons, it is possible to progressively extend to the end of the month in which the child reaches the age of one year and six months, and then to the end of the month in which the child reaches the age of two years.
Shorter working hours for childcare
If staff members apply for shorter working hours in order to engage in childcare, it is possible to shorten work hours to six or seven hours per day.
Exemption from unscheduled work
This applies to staff members who are raising children under the age of three.
Limit on out of hours work and exemption from late-night work
This applies to staff members that are raising pre-school children or providing nursing care for a relative.
Limit on out of hours work: 24 hours/month, 150 hours/year
Exemption from late-night work: From 10:00 pm to 5:00 am
Leave to care for ill or injured children
Up to twelve days of leave may be taken in order to care for ill or injured pre-school children.
Accumulated leave
(Pregnancy, birth, caring for children, fertility treatment, and nursing care)
It is possible to use accumulated paid annual leave* to cover feeling unwell during pregnancy, children's vaccinations, and caring for ill or injured children.
*The amount of annual leave that would otherwise expire.
This content is correct as of January 2019.
In view of the fact that the number of people who will require nursing care will increase in society in the future, Dexerials is supporting the compatibility of work and nursing care for its employees. Dexerials is creating a workplace that enables proactive career continuation by providing nursing care support systems that go beyond what is legally required, such as a shorter working hours system and a system of one-year's leave, so that employees can fully demonstrate their talents even when they are facing problems.
System for the planned acquisition and accumulation of annual paid leave
At Dexerials, we have created a system for the planned acquisition of annual paid leave with the objective of promoting acquisition of annual paid leave and refreshment. Employees can plan to acquire leave that suits their lifestyles and can be refreshed by taking days of accrued leave. Also, we have established a system to allow the accumulation of annual paid leave that employees were not able to take during the year, so that employees can take accumulated leave for unexpected situations and when consecutive leave is necessary, such as illness, nursing care, volunteer activities, nursing children, and infertility treatment.
The ratio of new recruits still in employment three years after joining the company is 91.3%, which is one of the indicators showing employee satisfaction with Dexerials. (21 of 23 new employees from fiscal 2015 were still employed as of April 1, 2018.)
Employment of overseas nationals
We are expanding our global business, and the Group now earns just over 50% of its net sales overseas. As such, even Dexerials business locations in Japan need personnel capable of functioning in a global context. Since 2015, we have regularly employed new graduates, 5% of which are people from other countries. We plan to proactively employ experienced overseas nationals in the future. We are proactively involved in internships, and people of other nationalities can use this opportunity to gain employment experience. Meanwhile, we provide training through English, give intercultural training to employees at their assigned business site, offer vegetarian options in the employee canteen, and take other steps to ensure an appropriate workplace environment. These measures mean that employees can work in a supportive atmosphere without encountering barriers of nationality.
Activities for veteran employees
Out of consideration for employees who wish to work well beyond retirement age, and also to meet the company's labor requirements, we revised the system so that all employees so wishing would be employed up to age 65, thus creating a system where staff can be confident of continued employment after retirement age. We are conducting activities that allow people to find a place within the company after retirement where they can continue to work energetically in their senior years, whether by continuing to use their accumulated skills or taking on a new field of activity.
Promoting employment of people with disabilities
We employ people with disabilities in a wide range of areas, from office work through to manufacturing. In workplaces that employ people with hearing impairments, we give consideration to the work environment. For example, bosses and colleagues learn sign language and fingerspelling, and Indicator lights are installed for safety and disaster prevention purposes.
In view of the importance of increasing diversity within the company and proactively fulfilling social responsibilities, Dexerials Kibou Corporation began operating in 2015 as a certified special subsidiary to promote the employment of people with disabilities. Work environments are being prepared so that people with disabilities can work with peace of mind. Currently, Dexerials Kibou currently has 23 employees (of whom 13 have disabilities) working at Dexerials business sites in cleaning, garden management and other business activities. The percentage of employees with disabilities in the Group is 3.6%.
The Dexerials Group has adopted the Dexerials Group Code of Conduct, which sets forth the basic internal standards to be observed by all Group officers and employees. In addition to legal compliance, this Code of Conduct sets forth the basic policies related to Dexerials Group company ethics and business activities, including respect for human rights, product and service safety, environmental conservation, and the disclosure of corporate information. Also, we have set basic policies in connection to important themes for human rights, such as equal employment opportunities, healthy employment (including the elimination of forced labor/child labor), and the prohibition of harassment, which we are notifying to the entire company through training, etc.
Dexerials Group Code of Conduct
Internal compliance Hotline
Dexerials has set up an internal compliance hotline. When someone becomes aware that a violation of the Dexerials Group Code of Conduct has occurred or may occur, in the case that the employee is concerned about being unable to deal with the situation in their workplace, etc., they can anonymously contact the internal/external point of contact at any time. Providers of information are protected from being treated unfairly as employees after raising an issue. There is also a harassment consultation reception and a female-only consultation reception.
Establish a worker-friendly environment
Introduction of healthy menus
Lunch at the employee canteen is a time for employees to rest and it also provides an important chance for meal support that is the basis for health promotion. The employee canteens at each plant have healthy menus that promote employee health and we provide low-calorie and nutritionally balanced meals and information regarding health through POP and other notifications on the canteen tables.
Holding food-based health events and health seminars
We hold health events and seminars through tie-ups with contractors at plant cafeterias.
At health events, people gain an understanding of their own health status through blood flow measurement, bone density measurement, and simple locomotion checks, etc. and these initiatives provide people with an opportunity to examine their lifestyle habits.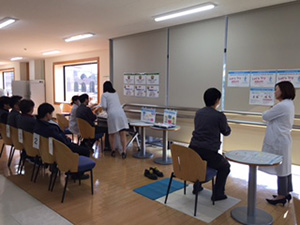 In October 2017, the Tochigi Technology Center became a model plant for holding RIZAP GROUP, Inc.'s health promotion seminars in cooperation with health insurance associations in order for employees to enjoy engaging in health promotion activities, and 80 employees participates in the lectures and training. In the results of the follow-up questionnaire, 92.1% of participants said that their health awareness changed by participating in the classes. After participating in the class, some employees successfully lost more than 10 kilograms within six months, and we will keep on raising awareness about exercise habits through company-wide expansion. In addition, a yoga class is held every month at the Nakada Plant with the aim of maintaining and promoting health.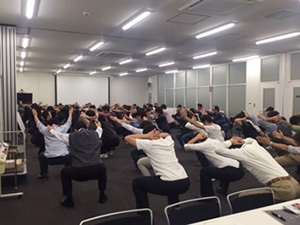 RIZAP exercise class
Support for health promotion among dependents with cooperation from health insurance associations
We are implementing health challenges for both employees and their families in cooperation with health insurance associations. Life habits and health promotion challenges involving families were held, including a 1-month walking and no-smoking challenge, weight loss, and handwashing/gargling for children.
In-house refreshment spaces
In order to be a company where employees can work with enthusiasm, and to create an environment and provide structure so that employees take an interest in their own health and grow together with the company, a space for refreshment and light exercise was set up at the Tochigi Technology Center in fiscal 2017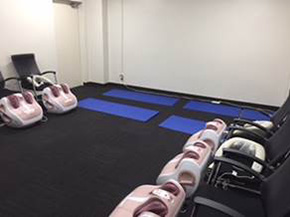 We promote anti-smoking activities from an environmental perspective, such as designating building interiors as no-smoking zones and establishing smoking hours, and we work with health insurance societies to run activities to support quitting smoking for staff that wish to do so. We cover all expenses for staff that attend clinics to quit smoking and 85.7% of participants in fiscal 2017 managed to quit. Also, we conducted seminars for the whole company entitled "Thoughts on Tobacco and Smoking: Periodontal Diseases and Pulmonary Emphysema" presented by an industrial physician, to create an opportunity for staff to think about smoking. Through initiatives such as these, we have continued to reduce the smoking rate at the Company, so that the rate in fiscal 2017 was 3.8% lower than in fiscal 2013.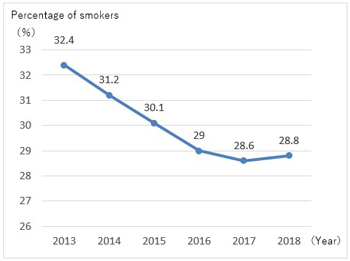 Trends in percentage of Dexerials employees who smoke
Event to celebrate the growth of employees' children
Every year, to celebrate our employees' children's entry into elementary school, we present them with school satchels. The children are invited with their families to one of our business sites, where the presentation is made in person by the company president or a corporate officer.