Environmental Measures
Response to the Recommendations of TCFD
Climate change is an important issue that humanity must resolve if we are to realize a sustainable society. We consider action against climate change to be a prerequisite for business continuity for any company.
Dexerials has endorsed the recommendations of the Task Force on Climate-related Financial Disclosures ("TCFD") and will contribute to the realization of a sustainable society through the appropriate and timely disclosure of information about the management risks and opportunities associated with climate change.
In addition, by providing new value through our own products and technologies, we will promote initiatives to leave a rich environment to future generations, with the aim of harmonious co-existence with our stakeholders.
Disclosure in accordance with the TCFD recommendations
Dexerials has positioned climate change as an important management issue and is pursuing activities aimed at realizing a sustainable society.
It regularly convenes the Sustainability Working Groups, led by a representative director, to hold cross-functional discussions of progress being made toward the targets set under its important challenges. The Working Groups report on material issues to the Board of Executive Officers and the Board of Directors and receive instructions from them.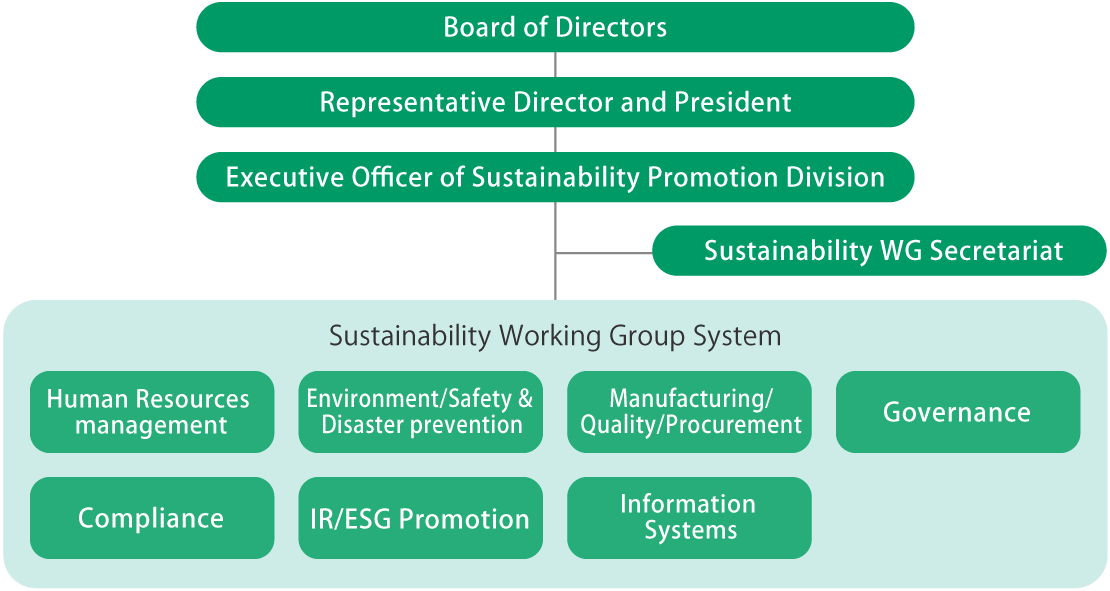 CSR Management Structure
Dexerials has identified risks and opportunities on the long-term timeframe toward 2050 and is undertaking scenario analyses that consider the 2˚C (1.5˚C) and 4˚C scenarios.
Based on these scenario analyses, in addition to deliberating on responses to those risks and opportunities and on the resilience of the Company's strategies, we will further enhance company-wide strategies by expanding the target of analysis to other products.

The Risk Management Committee has been established as the agency for Group-wide management of interdepartmental risk.
This Committee periodically identifies significant management risks and reports them to the monthly meetings of the Board of Executive Officers.
Dexerials has set CO2 emissions as a climate-related evaluation metrics and is aiming to achieve zero CO2 emissions from consuming electricity for business by 2030.
Additionally, based on the scenario analyses, we will consider long-term climate change metrics and targets such as the reduction of greenhouse gas emissions in business activities.