Environmental Measures
Environmentally Conscious Products
The Dexerials Group is promoting efforts to reduce the quantity of environment-related controlled substances contained in its products or used in manufacturing processes, by switching to alternative raw materials and eliminating the use of solvents from manufacturing processes. Also we are developing and commercializing technologies that contribute to reducing environmental burden.
Typical environmentally conscious products
Halogen-free/Pb-free products
Halogen-Free type Self Control Protector (SCP)
This Self Control Protector (SCP) is a surface mounted fuse that protects products by interrupting overcharge or overcurrent in Li-ion rechargeable batteries mounted in tablet PCs and cordless electronic tools. Typically, products used halogenated compounds which emit dioxins when incinerated. Dexerials, however, has advanced ahead of the rest of the industry, and has been developing and selling halogen-free products since 2008, and is presently working to eliminate halogen from all of its products.
Furthermore, in 2018, we developed and acquired patents for Pb-free technology for fuse elements in Self Control Protectors (SCP).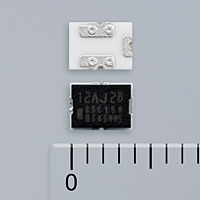 Development of UV curable products
Green Tape® G9000
Green tape is adhesive tape manufactured using a solventless UV curing method for the adhesive coating process. We have developed products with functions to meet the diverse needs of our customers, including adhesion to curved surfaces, shock resistance, and recyclability. It has been used in a wide range of applications from LCD televisions, PCs, smartphones, consumer electronics to industrial devices.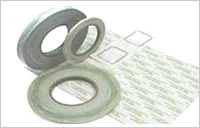 UV curable adhesives
In 2002, the company commercialized an adhesive that was UV curable, just like Green Tape.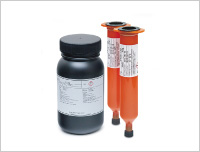 *

Green Tape won the Minister of Economy, Trade and Industry Prize in the 2009 Awards for Circular Resource Techniques and Systems from the Ministry of Economy, Trade and Industry of Japan.
Environmental burden reducible technologies
Heat Island Mitigation Measures
Solar control window film "Albeedo"
Dexerials is focusing on conventional heat-shielding glasses installed to improve the internal environment and save energy of office and other buildings that reflect sunlight toward the ground and worsen the city heat environment. Dexerials has developed and commercialized window film that was designed to reflect a specific wavelength in sunlight toward the sky. "Albeedo" is drawing attention as an easy measure to prevent the heat island effect as it can be applied to a wide range of glass windows on existing buildings.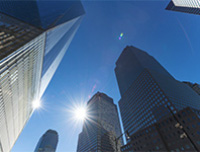 Water treatment agent
This is a product that was conceived by applying Dexerials elemental technologies of organic material design and formulation to reduce the amount of agents and sludge waste of inorganic water treatment as part of the activities to reduce the environmental burden at our factory in 2009. Dexerials achieved water treatment that has three functions— coagulation, flocculation, and dewatering —in only by one agent and that enables a great reduction in the amount of agents used for primary treatment and sludge waste by utilizing characteristics of natural plants.