Shareholder Returns / Dividends
Stock Information
Shareholder Returns/Dividends
We regard return of profits to shareholders as one of the most important management tasks. With a recognition that increasing corporate value through investments for growth is the common interests of our shareholders, we have established a basic policy that we should first give priority to business investments leading to sustainable corporate value improvement and then make shareholder returns in line with profit growth with the target total payout ratio to consolidated profit attributable to owners of parent before amortization of goodwill (See Note 1) of approximately 40%.
(Note 1)

Total payout ratio to consolidated profit attributable to owners of parent before amortization of goodwill

Fiscal year ending March 31, 2024 (forecast)
(As of May 10, 2023)

(Note 2)

We maintain the current shareholder return policy of distributing profit with the target total payout ratio to annual profit before amortization of goodwill of approximately 40% through the payment of cash dividends and share buyback.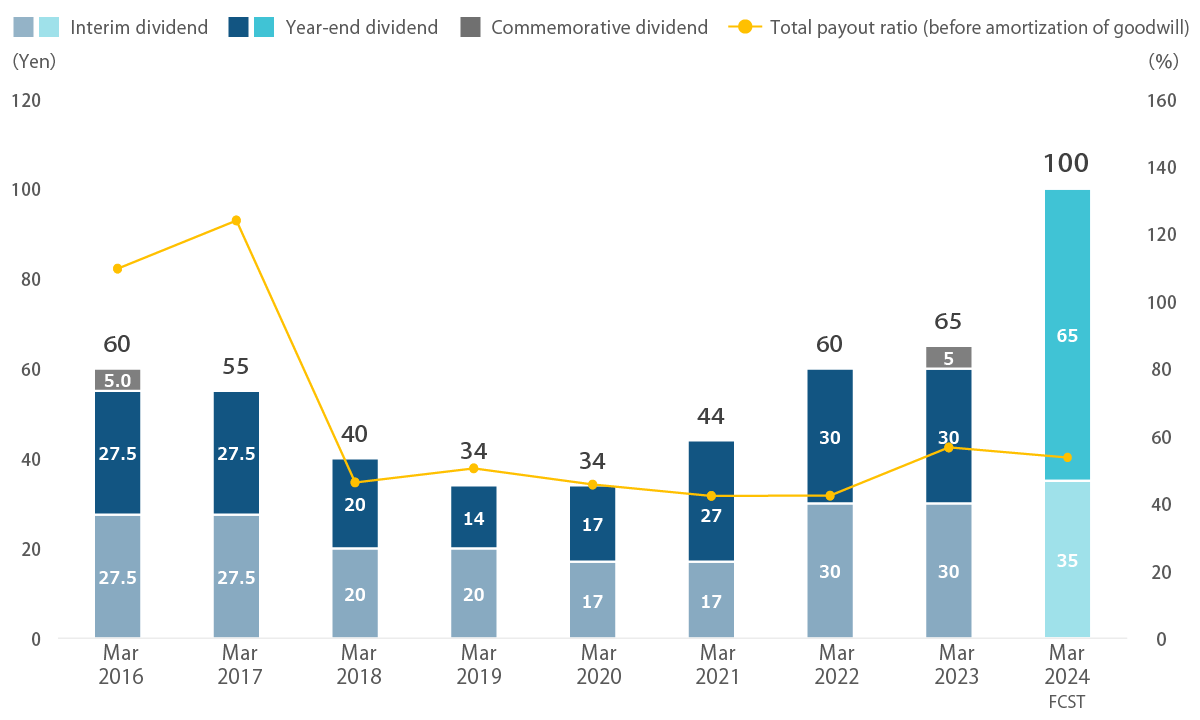 (Disclaimer)
The forward-looking statements contained in this contents are based on information currently available to the Company and certain assumptions that are believed to be reasonable, and no responsibility is borne as to the accuracy or completeness of the forward-looking statements. Actual results may differ from the results anticipated in these forward-looking statements due to a variety of factors, and the Company gives no assurance that such statements will prove to be correct. Additionally, regardless of actual results, etc., the Company has no obligation to continuously update the content on this website nor does it have such a policy.
This website is only disclosed with the intent of providing reference information to investors in making decisions; please make final decisions regarding investments on your own. The Company shall not be held liable for any losses resulting from the use of any part of this website in reaching an investment decision.
Acquisition of treasury stock
(As of May 24, 2023)
Repurchase Period
Method of Repurchase
Purpose
Total Number of Repurchased Shares
Total Repurchase Amount
Materials
June 1, 2022 -
December 13, 2022
Market purchase
-
2,288,000
¥7,999,818,394
PDF
(93KB)
May 17, 2022 -
May 18, 2022
Market purchase
Additional Contribution to Board Benefit Trust (BBT)
252,900
¥999,727,301
-
March 1, 2022 -
March 14, 2022
Market purchase
-
339,800
¥999,980,395
PDF
(553KB)
November 2, 2021 -
November 15, 2021
Market purchase
-
922,800
¥2,999,930,500
PDF
(78KB)
August 31, 2020 -
October 7, 2020
Market purchase
-
300,000
¥331,690,100
-
| Date of Cancellation | Number of Shares Cancelled | Ratio of Total Number of Issued Shares before the Cancellation | Total Number of Issued Shares after the Cancellation | Materials |
| --- | --- | --- | --- | --- |
| May 24, 2023 | 3,550,600 | 5.5% | 61,024,400 | PDF (101KB) |
Special Benefits for Shareholders
We do not have a system of special benefits for shareholders.