>Mid-term Management Plan
Corporate Strategy
Dexerials announced the three-year Medium-term Management Plan "Change for Growth 2018," with FY18 (fiscal year ending March 31, 2019) as the final fiscal year.
Regarding FY18 as a preparation period to accomplish sustainable growth, Dexerials will take initiatives with an eye to the future.
Corporate vision & objective, and positioning of the Mid-term Management Plan: No Change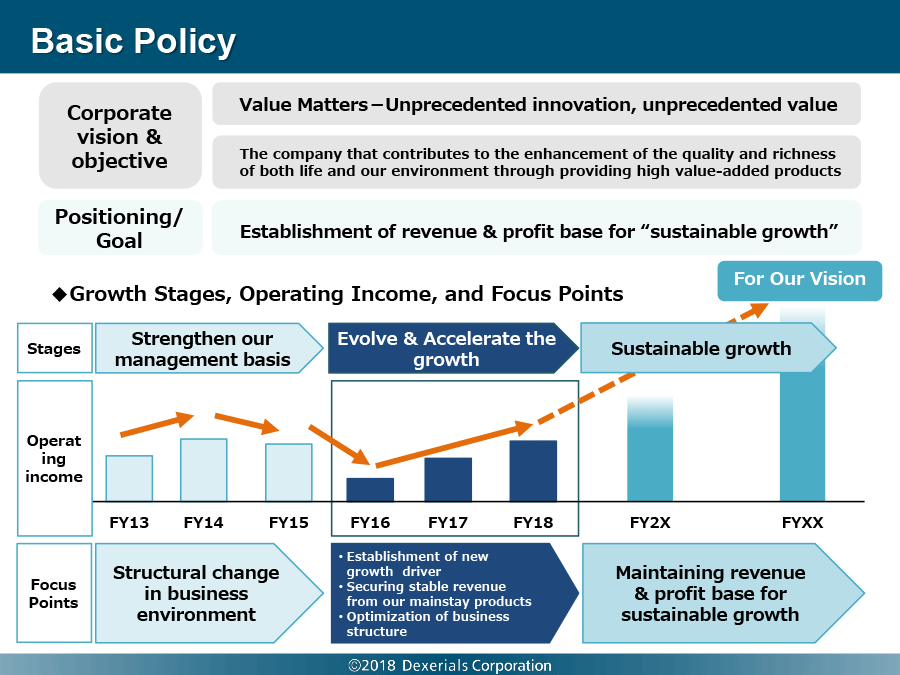 Please refer to the following presentation material regarding the FY18 & Beyond : Initiatives Towards Sustainable Growth.(Excerpt from the FY17 Financial Results (Slide Presentation))
FY18 & Beyond : Initiatives Towards Sustainable Growth
(Disclaimer)
The forward-looking statements contained in this contents are based on information currently available to the Company and certain assumptions that are believed to be reasonable, and no responsibility is borne as to the accuracy or completeness of the forward-looking statements. Actual results may differ from the results anticipated in these forward-looking statements due to a variety of factors, and the Company gives no assurance that such statements will prove to be correct. Additionally, regardless of actual results, etc., from the date of the publishing of this document, the Company has no obligation to continuously update the content of this document, nor does it have such a policy.
This document is only disclosed with the intent of providing reference information to investors in making decisions; please make final decisions regarding investments on your own. The Company shall not be held liable for any losses resulting from the use of any part of this document in reaching an investment decision.