Corporate Strategy
Toward the corporate image to be built up over a long period, the Company has formulated the Mid-term Management Plan "Challenges for Evolution" covering the five-year period from the fiscal year ended March 31, 2020 to the fiscal year ending March 31, 2024, which is positioned as a phase to ensure a sustainable growth through business expansion in new domains where social issues have surfaced. We are proud to acknowledge that, during the fiscal year ended March 31, 2022, we achieved the management targets for the final year of the updated Mid-term Management Plan released on May 10, 2021 two years earlier than expected.
Over the remaining two years of the plan as a preparatory period for the next Mid-term Management Plan, under the basic policy, we will further strengthen our management base and implement our growth strategies ahead of schedule to achieve sustainable growth and enhance corporate value.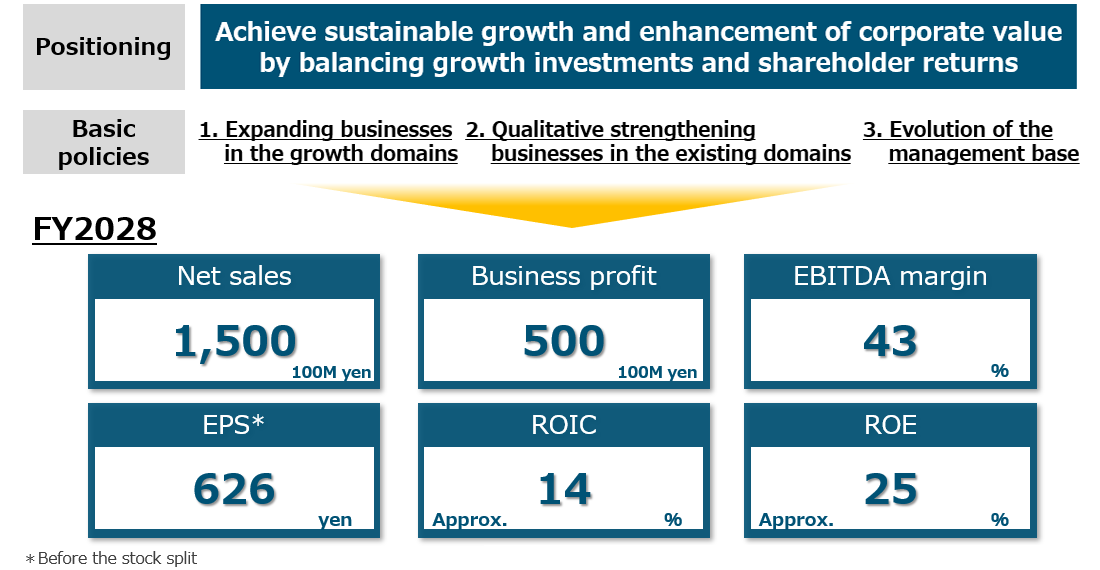 2. Three basic policies:No Change
The Company seeks sustainable growth through continuing to work on various measures under the basic policy set forth in the current Mid-term Management Plan, while developing the necessary measures to achieve sustainable growth in the fiscal year ending March 31, 2025 and beyond. During the fiscal year ending March 31, 2023 in particular, we will focus on addressing the issues and initiatives described as follows.
(1) Accelerate business growth in new domains
On March 24, 2022, the Company made Kyoto Semiconductor Co., Ltd. a subsidiary. Since the initial announcement of the current Mid-term Management Plan in 2019, we have focused on growth in the automotive domain. As the next growth area, we will further expand the high-speed communications and sensing domains with Kyoto Semiconductor Co., Ltd. at the core. We will develop and provide new products and technologies, while creating synergies, with Kyoto Semiconductor Co., Ltd. to steadily expand our business performance and prepare for the creation of new products, thereby aiming for sustainable growth in the next Mid-term Management Plan and beyond.
(2) Qualitatively change businesses in the existing domains
As a result of our efforts to provide high value-added products that anticipated technological trends of the world, we expect that high value-added product business will continue to expand. Specifically, with a new line now in operation for surface mounted type fuses, a differentiating technology product, we aim to expand business for high current applications, where demand is strong. We will also focus on expanding sales of smart precision adhesives (SA) and anisotropic conductive films (ACF) for high-end models of smartphones, which are expected to increase market share. In addition, we aim to increase sales of anti-reflection films by expanding its adoption for in-vehicle displays.
(3) Strengthen management base
In our efforts to enhance corporate value, we will not only grow our business through the expansion of differentiating technology products, but also strengthen our focus on non-financial capital and intangible assets that support sustainable growth, such as DX (Digital Transformation), environmental initiatives, and BCP (Business Continuity Plan).
As for engagement with employees and society, we will promote diversity in work style as well as develop various measures to coexist in harmony with society and local communities where our business bases are located, including Tochigi prefecture, where we relocated our head office in July 2021.
(Disclaimer)
The forward-looking statements contained in this contents are based on information currently available to the Company and certain assumptions that are believed to be reasonable, and no responsibility is borne as to the accuracy or completeness of the forward-looking statements. Actual results may differ from the results anticipated in these forward-looking statements due to a variety of factors, and the Company gives no assurance that such statements will prove to be correct. Additionally, regardless of actual results, etc., the Company has no obligation to continuously update the content on this website nor does it have such a policy.
This website is only disclosed with the intent of providing reference information to investors in making decisions; please make final decisions regarding investments on your own. The Company shall not be held liable for any losses resulting from the use of any part of this website in reaching an investment decision.