Corporate Strategy
Toward the corporate image to be built up over a long period, the Company has formulated the Mid-term Management Plan "Challenges for Evolution" covering the five-year period from the fiscal year ended March 31, 2020 to the fiscal year ending March 31, 2024, which is positioned as a phase to ensure a sustainable growth through business expansion in new domains where social issues have surfaced. We are proud to acknowledge that, during the fiscal year ended March 31, 2022, we achieved the management targets for the last fiscal year of the updated Mid-term Management Plan released on May 10, 2021 two years earlier than expected, and in the fiscal year ended March 31, 2023, we posted record profits for the third consecutive year.
In the fiscal year ending March 31, 2024, as a preparatory period for the next Mid-term Business Plan, under the basic policy, we will further strengthen our management base and implement our growth strategies ahead of schedule to achieve sustainable growth and enhance corporate value.
(May 10, 2023)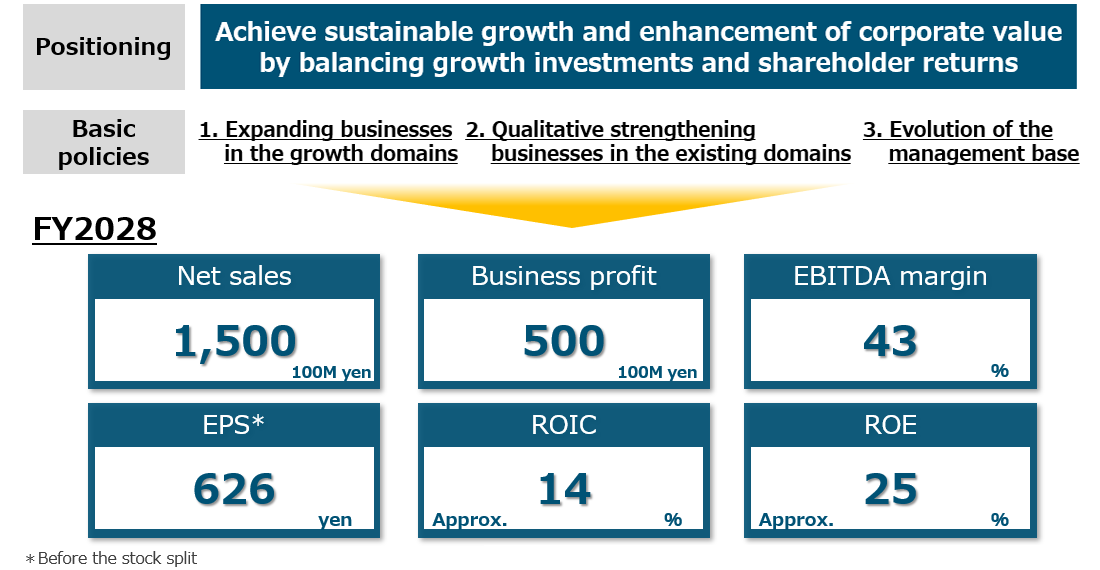 2. Three basic policies:No Change
The Company seeks sustainable growth through continuing to work on various measures under the basic policy set forth in the current Mid-term Management Plan, while developing the necessary measures to achieve sustainable growth in the fiscal year ending March 31, 2025 and beyond. During the fiscal year ending March 31, 2024 in particular, we will focus on addressing the issues and initiatives described as follows.
(1) Accelerate business growth in new domains
Leveraging our technologies cultivated through our business in the consumer IT product market, we will support the evolution of digital technologies, including IoT, to promote business expansion in new domains. In the automotive domain, which is becoming increasingly digital and becoming one of the IoT application sectors, we will ramp up our production system for anti-reflection film to respond to increasing demand. The film helps improve the safety of in-vehicle displays that are essential for monitoring advanced driver assistance systems (ADAS) and other applications. Kyoto Semiconductor Co., Ltd, which manufactures optical semiconductors for next-generation communication, sensing, and other applications indispensable for the digitalization of society, will work to further expand sales of products for optical communications, while further improving its profit structure by steadily promoting a large-scale deal it won in the previous fiscal year.
(2) Qualitatively change businesses in the existing domains
We aim to maximize earnings from existing businesses by creating differentiated technology products with technology development that anticipates technological advances in the world, which is one of our strengths. In particular, for high-end smartphone models, we expect to see the continued growth of the following products: 1) for displays, particle-arrayed ACF, which has become the de facto technology for flexible OLED displays as their adoption increases; and 2) in non-display applications, smart precision adhesives (SA) for the assembly of sensor modules as sensor modules become larger and the number of modules mounted increases, as well as pre-cut ACF developed to accommodate the increasingly complex mounting surface as modules have become larger.
(3) Strengthen management base
In order to achieve sustainable growth even in a rapidly changing business environment, we will continue to strengthen our focus on non-financial capital and intangible assets that support sustainable growth. In particular, as a measure to strengthen our human capital, which is one of our most important business resources, we introduced a job-type personnel system for management level employees in Japan as of April 1, 2023. By introducing such system, which is a global standard, we aim to secure excellent and motivated human resources both in Japan and overseas. In addition, we will promote DX (Digital Transformation) at the company-wide level, with initiatives including the shift to IoT at manufacturing sites, system investment, and the development of digital talent, aiming to maximize the value of human resources by improving productivity and operational efficiency.
(Disclaimer)
The forward-looking statements contained in this contents are based on information currently available to the Company and certain assumptions that are believed to be reasonable, and no responsibility is borne as to the accuracy or completeness of the forward-looking statements. Actual results may differ from the results anticipated in these forward-looking statements due to a variety of factors, and the Company gives no assurance that such statements will prove to be correct. Additionally, regardless of actual results, etc., the Company has no obligation to continuously update the content on this website nor does it have such a policy.
This website is only disclosed with the intent of providing reference information to investors in making decisions; please make final decisions regarding investments on your own. The Company shall not be held liable for any losses resulting from the use of any part of this website in reaching an investment decision.