Adhesive
Silicone-rubber base flame retardant adhesives
For fixing electronic devices, with outstanding electrical properties
Product name

SC970

Features

1 liquid typing room-temperature hardening type adhesives hardened within 10 minutes as a tack free time.
Features high electrical insulation characteristics.
Maintains rubber elasticity and adhesiveness.
Readily squeezed from the tube, the product is easy to handle. There is no threading or drop, ensuring neat joining, sealing, mounting and heat radiation.
Produces only small amounts siloxane gas.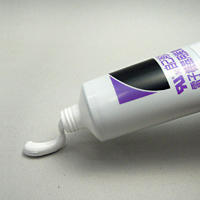 | Product name | SC970 |
| --- | --- |
| Main component | Silicone rubber base |
| Property | Non-liquidity paste |
| Color | Gray |
| Solid content (wt%) | 97% or more |
| Specific gravity | About 1.6 |
| Tack free time (23°C) | Within 10 minutes |
| Container | 160g tube or 333ml cartridge |
| Warranty period from manufacturing date | 9 months |
*

UL Certificated. File No.E63260 94V-0 (t = 3.0mm) and UL94V-1 (t = 1.0mm)
The product is suitable for fixing electronic devices, insulation sealing, and mounting, including:

1.Sealing for insulation, waterproofing, dust proofing, damping, or airtightness; mounting; and bonding of printed circuit board, high-voltage components (such as flyback transformers), hybrid ICs, sensors and other electronic devices.
2.Sealing of coils.
3.Fixing lead wires.

・Sealing for waterproofing, dust proofing, and damping; mounting; and bonding in home electrical appliances, communication devices, or measuring instruments.
・General joining of metals, glasses or plastics.
1.Curing speed
The adhesive is moisture cure type, Thus the curing rate depends on the ambient humidity in the workplace. Curing starts at the surface in contact with air, and proceeds inwards slowly, thus taking some time to complete.
Test Piece Condition
[A 14mm deep glass dish with a 25mm inner diameter was filled with uncured SC970 and the thickness of the cured layer after being left for a certain period of time at various temperature and humidity environments was measured.]
Results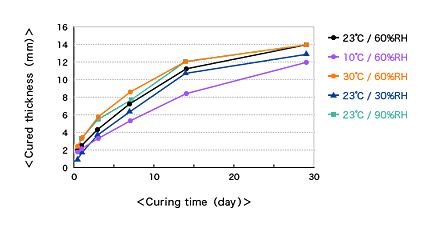 2.Siloxane outgassing under each temperatures (Reference)
Test Piece Condition
[The amount of capture cyclic dimethyl siloxanes at the time of 100°C and 150°C heating of SC970 by GC-MS and our existing product is measured. We converted the cyclic dimethyl siloxanes D3~D10 as tetradecan, and quantified it.]
Results
(ppm)
Siloxane outgassing
Product name
SC901
SC950
SC970
100℃
1,104
1,901
253
150℃
3,179
4,196
309
3.Property after curing
Test Piece Condition
Curing condition:23°C±5°C 60±20%RH x 7days
Results
Product name
SC970
Appearance
Rubber-like elastic material
Specific gravity
About 1.6
Hardness JIS A
50
Tensile strength (MPa)
2.3
Elongation (%)
150
Thermal conductivity (W/mk)
0.7
Electric resistivity
Test circuit pattern(Conductor space 1.27cm)
1012 or more
Volume resistivity (Ω・m)
2.0X1011
Dielectric breakdown strength DC (kV/mm) JIS C2110
13 or more
Dielectric constant (ε) 1MHz JIS K6249
4 or less
Dielectric dissipation factor (tanδ) 1MHz JIS K6249
0.01 or less
4.Bonding strength on various type of substrate (Shear strength)
Test Piece Condition
Specimen size:1mm
Bonding area:25mm x 10mm
Curing condition (Initial):23°C±5°C 60%±20%RH x 7 days
Aging condition:60°C x 168 hours or 100°C x 168 hours
Measuring condition:23°C±5°C 60%±20%RH
Peeling speed:10mm/min
Results
(N/cm2)
Shear strength
Substrate
Product name
SC970
Initial
After aging
Aging condition
Polystyrene/Polystyrene
170
131
60°C
168 hours
ABS/ABS
201
267
PMMA/PMMA
186
187
PVC (rigid)/PVC (rigid)
194
151
Phenol/Phenol
199
193
Glass epoxy/Glass epoxy
226
234
100°C
168 hours
Copper plate C1100P/C1100P
172
169
Steel plate SECC/SECC
152
174
Aluminum A1050P/A1050P
130
150
Aluminum A5052P/A5052P
151
182
5.Hardness change characteristic
Test Piece Condition
[Curing condition of SC970 is 7 days at 23°C 60%RH, and shore hardness change of the rubber-like cured materials in lapsed time will be measured under 150°C temperature environment after this.]
Results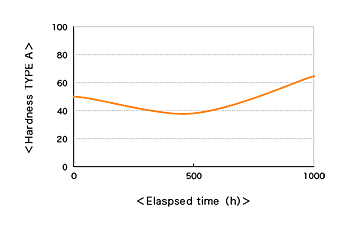 6.Electrical property (Insulation resistance voltage)
Test Piece Condition
| | |
| --- | --- |
| Substrate: | JIS Z3197 Comb electrodes pattern (Conductor distance:1mm) |
| Thickness of adhesive: | 200μm |
| Curing condition (Initial): | 23°C±5°C 60%±20%RH x 7 days |
| Measuring temperature: | 23°C 60%RH, 60°C 90%RH, 100°C |
| Aging Time: | 500 hours, 1000 hours |
Results
(Ω)
Insulation resistance voltage

Product name

Time

23°C 60%RH
60°C 90%RH
100°C

SC970

Initial
5.0E+12
-
-
500 hours
6.0E+12
6.8E+12

7.5E+13

1000 hours
6.0E+12
6.2E+12
7.0E+13
Please read notes indicated on the relevant safety data sheet(SDS) for precautions required for operation.
Note on the characteristic data given - Data on the characteristics of the products described in this page based on the results of evaluations carried out by the company. This does not guarantee that the characteristics of the product conform with your usage environment. Before use, review the usage conditions based on evaluation data obtained from the equipment and substrates actually used.
---