Sustainability Management
Sustainability Management
Dexerials Group Policy
Dexerials Group will contribute to the realization of a sustainable society and aiming to improving corporate value by means of open and highly-transparent business management and the tireless development and provision of technology and products toward the realization of the Corporate Philosophy "Integrity" and the Corporate Vision "Value Matters."
1.Creating value through business
We are promoting the development of new products and new technology development that responds to various social issues by means of the ultimate demonstration and improvement of the technology and know-how acquired by Dexerials through our business. Also, with pride in our great technological strength, we are striving to create value that goes beyond what is required of us from society and our customers.
2.Thorough compliance
We are complying with social norms including laws, and we are sincerely and honestly promoting fair business. Also, we are protecting the Company's assets and values by thoroughly managing the information required for business and corporate management.
3.Respect for human rights
We respect all human rights and we do not discriminate or carry out forced labor or child labor.
4.Creating a lively workplace
We are creating a fair workplace with meaningful work, promoting dialogs with employees, and preparing and supporting environments required for all employees to independently demonstrate their abilities and grow. Also, we are promoting initiatives for active female participation and expanding opportunities for the active participation of people with disabilities.
5.Environmental conservation
We are conducting the proper management of chemical substances as we endeavor to reduce the environmental burden from our business activities, including global warming countermeasures. Also, we are contributing to solving environmental issues by developing environmentally-conscious products and promoting environmentally-consciousness in business.
6.Creating safe and healthy workplaces
We conduct activities to promote the active use and health of employees by preparing environments in which all employees can continue to work safely.
7.Contribution to local communities
We contribute to local communities as a good corporate citizen. We encourage communication with local areas, promoting activities and supporting initiatives related to the environment, sports, cultural activities and so on, mainly in the areas where plants are located.
8.Expanding together with suppliers
We strive to conduct activities that contribute to our social responsibility in the entire supply and procurement value chain as we share CSR initiatives with all suppliers.
At Dexerials, CSR management is promoted based on the direction of the executive officer of the CSR promotion division (Sustainability Promotion Division Head) with the representative directors as the final authority.
For the expansion of specific CSR activities, on the basis of the corporate philosophy, corporate vision and CSR Policy, etc., the Company unitedly promotes activities and "Sustainability Working Groups" have been established comprising the Division responsible for each CSR theme. On the basis of important challenges (materialities) specified by the Board of Directors, Sustainability Working Groups set issues by theme, set goals and activities, and confirm their progress. They also enhance activities and promote in-company awareness by taking into consideration an inter-divisional perspective.
Individual important themes related to the promotion of sustainability are discussed at the Board of Directors meeting when appropriate, which are fed back to formulate and execute management strategies.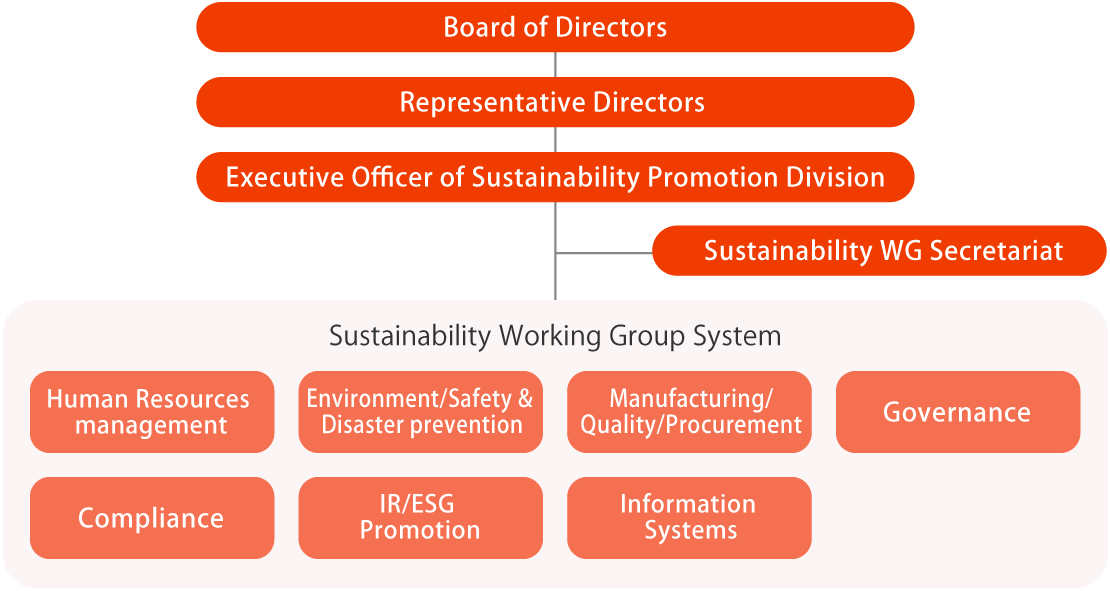 CSR Management Structure
There are many social issues surrounding Dexerials at this time. Among these, Dexerials specified the issues (materialities) that are considered to be closely related to the Dexerials business and of high importance, and for which systematic engagement is important, using the process for specifying materialities as below. Dexerials will contribute to the further improvement of corporate values and the realization of a sustainable society by means of initiatives toward the issues specified as materialities.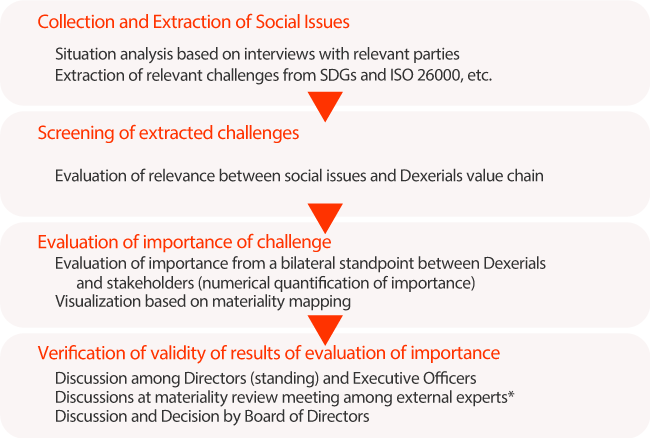 *Materiality review meeting
In the process of setting materialities, it is important that we evaluate and verify the social issues to be tackled as we objectively consider not only the importance to our Company but also the importance to stakeholders. Dexerials held a materiality review meeting by the three in-company standing officers, the external Director of Dexerials, and, as an external expert, Kentaro Noda (Professor of Business Design at Rikkyo University Graduate School). At the materiality review meeting, there was an exchange of opinions from specialist and objective perspectives alongside analyses of the social situation around Dexerials in connection to the social issues in which Dexerials should be engaged in the medium-to-long terms from among the selected social issues.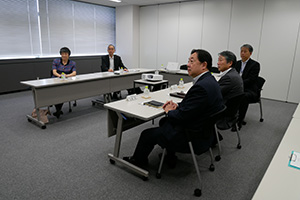 Materiality review meeting
*Materiality evaluation (materiality mapping)
We narrowed down social issues that are considered to be particularly relevant to the Company, which were identified by referring to various guidelines, etc. Then, we evaluated the importance of each issue to the Company and its stakeholders, and created a visualization of the results of the evaluation through two-axis mapping.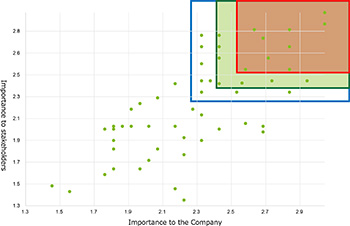 Challenges Specified as Materialities and related SDGs
Creation of New Values/ Solving Social Issues

Reinforcement of Governance and Compliance

Cultivating Diverse Personnel and Engagement

Ensuring Operational Safety and Business Continuity

Dexerials has set medium- to long-term CSR action targets in order to surely and effectively promote materiality initiatives. We will make a concerted effort to promote CSR activities to achieve key performance indicators (KPIs) specified for each materiality theme.
Targets
Our Group has established the Dexerials Group Code of Conduct, which all employees should observe, and is promoting thorough compliance and sound business activities.
The basic policies of the Code of Conduct are implementation of our Corporate Philosophy "Integrity Have Integrity and Sincerity," compliance with laws and regulations, and accountability and appropriate communication with stakeholders, and ensuring internal control through use of the Compliance Hotline. In addition, based upon the basic policies, we have established specific commitments which should always be upheld both by officers and employees. These include respect for human rights, product and service safety, environmental conservation, disclosure of corporate information, prohibition of harassment, prohibition of insider trading, measures against antisocial forces, and so on. The Code of Conduct has been translated into English, Chinese and Korean, and is applied to all group companies in Japan and overseas.
Dexerials Group Code of Conduct
Initiatives for Reinforcing Compliance
Distribution of the Compliance Handbook
We have produced the Compliance Handbook. It has been distributed to all officers and employees of Group companies in Japan and overseas to thoroughly disseminate the Dexerials Group Code of Conduct. The Compliance Handbook provides easy-to understand explanations, focusing on themes closely related to our business activities from the Code of Conduct.
Compliance Month
The Dexerials Group has designated October as "Compliance Month." Educational activities are carried out every October on complying with laws and social norms as well as practicing the Group's corporate philosophy and the Group Code of Conduct with the aim of improving compliance awareness within the Company.
Compliance Education
The Dexerials Group conducts training for all officers and employees of all Group companies in Japan and overseas using e-learning and other means. This training covers topics such as compliance, prevention of insider trading, prevention of bribery to public officials, product quality, elimination of antisocial forces, information security, and prevention of harassment.
We also distribute periodical email newsletters that explain compliance violation cases, using "manga" to help all officers and employees feel compliance more familiar.
Global Survey on Compliance Awareness
In January 2022, we conducted the compliance awareness survey of all Group companies in Japan and overseas to ascertain the level of awareness of compliance and their workplace environment. 95.2% of all employees responded to the survey, and we are working to strengthen compliance by considering and implementing measures to address issues identified from the survey results.
Compliance Hotline
The Dexerials Group has established internal and external (via attorneys) points of contact (Hotline) for whistleblowing by employees, etc. of the Group. The Hotline protects the safety of whistleblowers by allowing anonymous reporting and prohibiting disadvantageous treatment of whistleblowers. The Hotline is available in Japanese, English, Korean, and Chinese. We are working to strengthen compliance globally.
When a report is received, the Hotline will investigate the facts, and if the report is judged to be credible as a result of the investigation, the Representative Director and President and the relevant officers are notified, and the Board of Executive Officers, etc. will deliberate on measures necessary for correction and for prevention of recurrence.
The Group has established the Risk Management Committee, with the Representative Director and Senior Managing Executive Officer as the Chief Risk Management Officer, to manage risks for the entire Group in accordance with the rules and regulations on risk management. The Committee, which is convened periodically (twice a year), is chaired by the Risk Manager, who is the Executive Officer in charge of the Corporate Planning & Control Division. The Committee has subcommittees for each specialized field, formulating company-wide and comprehensive risks and countermeasures, evaluating their effectiveness, and monitoring progress throughout the year. The details of discussions and identified key risk items are reported to the Board of Executive Officers. In particular, substantial management and business risks are reported to the Board of Directors.
Main Risks Facing Dexerials Group and Their Countermeasures
BCP (Business Continuity Planning) Activities
Earthquakes, typhoons, and other natural disasters caused by climate change may cause serious damage to the personnel, facilities, and lifeline utilities required for operation.
The Group systematically implements employee training, along with safety measures and improvements to its facilities and operations, to prevent or minimize damage from disasters and accidents that potentially could have a serious impact on business. We also develop a business continuity plan, conduct drills, and review the plan as necessary to ensure that our business can continue to operate in the event of damage from a disaster or accident.
We are strengthening the BCP promotion framework to implement the BCP without delay, minimize damage, and continue or restore our business, after first ensuring the safety of the lives of employees and other people involved in the operations.
In addition, we are strengthening our BCP comprehensively by clarifying the target level to be achieved, introducing DX, developing a monitoring system to determine whether or not there is any impact in the event of an emergency, and conducting cross-company training.
Organizational Structure and Functional Roles within BCP
In fiscal 2021, to control information and instructions in the event of a disaster or emergency, we reorganized the structure of the Corporate Disaster Control Center, which oversees the entire Group, and the Disaster Response Office, which is responsible for initial response and recovery at each site and Group companies.
The Corporate Disaster Control Center has a well-organized function-based team structure. Under the Head of Corporate Disaster Control Center, who is in charge of overall supervision, it consists of a strategic information team consisting of a commander and team leaders, and functional teams.
The Disaster Response Office has improved mobility by reorganizing the structure based on the roles required for it, under the supervision of the Head of Disaster Response Office, who is responsible for each business site.
In an emergency, we set up the Corporate Disaster Control Center and Disaster Response Office upon an alarm signal from the safety confirmation system and quickly summon the members.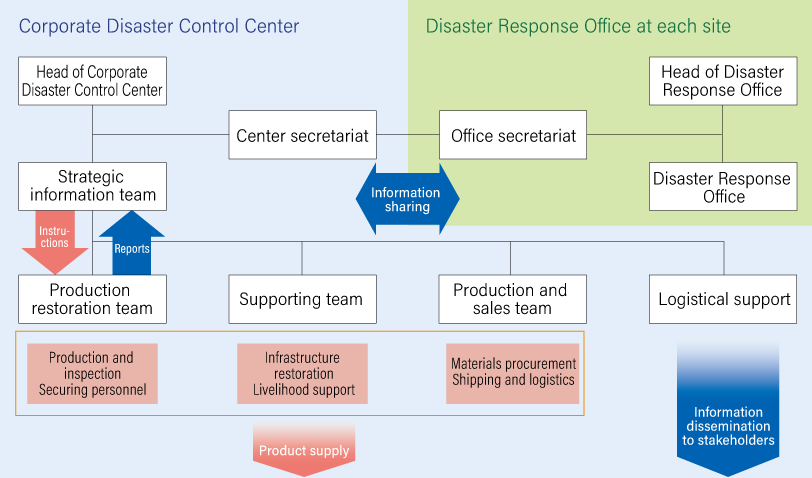 BCP structure
BCP Structure Improvement,Education, and Training
We reviewed the organizational structure and the roles of each function to improve administrative control and coordination among sites; we introduced tools for information collection and sharing, response planning and recovery planning, established remote environment and introduced a remote tool, thereby conducting e-learning education on BCP. In fiscal 2021, two earthquake drills were conducted, with assumed damage occurring at the Headquarters/ Tochigi Technology Center and the Kanuma Plants, respectively.
Management also participates in BCP training, creating scenarios aiming to improve the system and increase responsiveness and mobility, as well as responding to assumed emergency situations.
The training is shared online with all relevant members of the Company as it progresses, including the status of information organization, discussions, response status, and response details.
Issues that emerge during the training, including activities during normal times, are addressed and improved through the PDCA cycle.
Remote BCP training
In addition to gathering at the Corporate Disaster Control Center, we conduct BCP training assuming remote responses, such as when damage occurs across several location sites or when the team members are at home.
Through the training, including information organization and sharing, response status, and discussions, we improved the tools we used in BCP and developed other tools and environments necessary for remote responses.
Tools and equipment for BCP are stored at the Corporate Disaster Control Center and the Disaster Response Offices of the sites and Group companies to ensure prompt response in an emergency.
In anticipation of voice and data communications disruptions, satellite phones and MCA (Multi-Channel Access) radios are installed at each site. We conduct regular call drills and equipment inspections, preparing for unforeseen circumstances.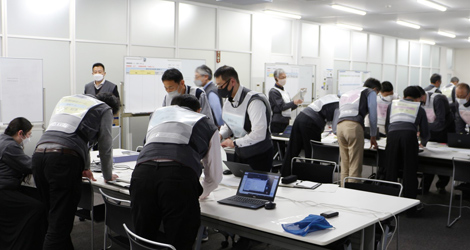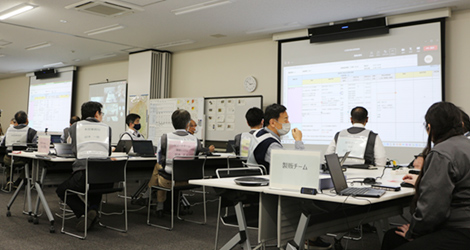 BCP training
Emergency drills
In a disaster or emergency, it is necessary to respond quickly and appropriately to prevent or mitigate human casualties and secondary disasters.
We conduct drills for all employees every year, even amid the COVID-19 pandemic, to improve our disaster prevention system and enhance our response capabilities. Those drills include fire extinguishing and evacuation drills, comprehensive disaster drills for earthquake simulation, and safety confirmation drills using the safety confirmation system.
Stockpiles and disaster supplies are stored and managed at each site in anticipation of people having difficulty returning home in a disaster. The storage information is centrally managed and shared to enable mutual support between sites.
A system is in place to quickly dispatch emergency instructions and communications to employees, such as to stay at home or come to work, through the safety confirmation system.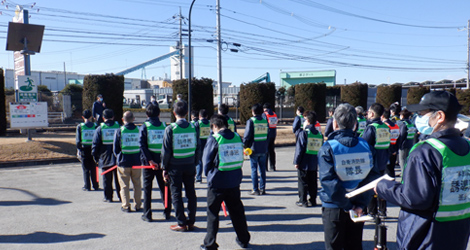 An emergency drill