This issue has been closed.
Technology which can be provided
Closed
Number
Title
S112
Basic Technology for Pressure/Displacement Flexible Film Sensor
Type of collaboration
Co-development / Licensing
A thin film sensor which generate a voltage while being bent. Output (voltage)depends on the amount of deformation applied to the sensor.
・Sensor Thickness: about 130μm 
・Input (Deformation mm)vs Output (Voltage mV):
   <Example>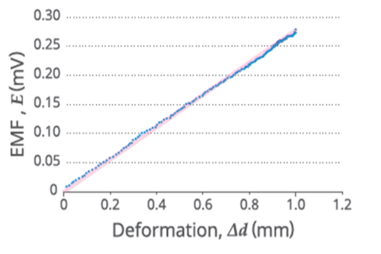 ・Output (Voltage mV) vs Time:
   <Our sensor>

   <Piezo film sendor (for comparison)>

・Limited number of samples available for parties interested in developing products using this sensor.
・Size of sample upon consultation.
・Discussion on licensing is also possible.