Development of D5300P Series, a Low-k Bonding Sheet that Facilitates Manufacture of FPC for High-Speed Transmi
Development of D5300P Series, a Low-k Bonding Sheet that Facilitates Manufacture of FPC for High-Speed Transmission such as 5G Communication
- Compatible for Both Liquid Crystal Polymer (LCP) and Polyimide (M-PI) -
Dexerials Corporation (President and Executive Officer: Yoshihisa Shinya, Shinagawa, Tokyo) has developed the low-k bonding sheet D5300P series, an interlayer adhesive material for flexible printed circuit (FPC) that can be used for both liquid crystal polymer (LCP) and modified polyimide (M-PI) with lower dielectric constant.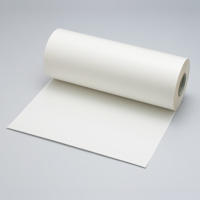 Today, the acceleration of speed of communication and transmission such as 5G communication requires an FPC serving as a transmission path to transmit high-frequency signals without loss. Many of the high-speed transmission FPCs are manufactured with low-k LCP as the base material. But the supply of LCP in the market is limited, which has been an issue in the manufacturing of FPCs for high-speed transmission. Furthermore, since the handling of LCP, such as the processing step, is difficult due to its material that is different from polyimide which has been conventionally used as the base material of FPC, low production efficiency has been another issue.
Therefore, especially in the use of transmitting signals of 6 GHz or less among high-speed transmission, FPCs using M-PI as the base material have begun to be used as an alternative for LCPs, and they have already been adopted for connecting the antenna for smartphones.
The recently developed D5300P series is an interlayer adhesive material compatible for both LCP and M-PI. We were able to enable adhesion of M-PI by reviewing the material configuration of the interlayer adhesive material D5200 series for LCP-based FPC which was developed last year. In addition, in order to satisfy required specifications at the time of manufacturing FPCs that vary depending on customers, Dexerials has developed two types: D5310P with excellent bonding strength and D5320P with excellent heat resistance.
The dielectric constant (κ) and dielectric dissipation factor (DF) of this product are reduced to 2.3 and 0.0028, respectively, and it can be also used for LCP-based FPCs for high-speed transmission of 6 GHz or higher. Furthermore, existing FPC manufacturing equipment can be used since this product is capable of bonding at 180°C, similar to the conventional products.
It also excels in UV-YAG laser processability, which means it can suppress side etching in forming blind via holes* in multilayer FPCs.
■Example of formation of blind via hole* by UV-YAG laser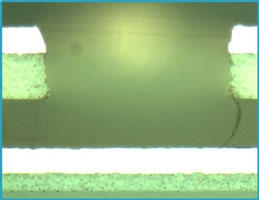 *

Blind via hole: holes for electrically bonding the surface of multilayer FPC and an inner layer. It is usually formed by laser processing.
This product will be introduced in a seminar at the 2019 World FPC & Application Material Industry Convention scheduled to be held on Wednesday, June 12 in Shenzhen, China.


■Structure and Property
Product name
D5310P
D5320P
Type
High-bonding strength type
High-heat resistant type
Cross-sectional diagram of FPC using the product series(concept)
Dielectric constant (

κ

)
2.34 10GHz
2.36 10GHz
Dielectric dissipation factor (DF)
0.0028 10GHz
0.0028 10GHz
Bonding strength to copper foil
13N/10mm
10N/10mm
Heat resistance
260℃ Pass
288℃ Pass
Bonding temperature
180℃
Use of existing equipment
Useable
Click here for corporate profile