Development of the D5200 series, a Low-κ Interlayer Adhesive Thermosetting Tape
Development of the D5200 series, a Low-κ Interlayer Adhesive Thermosetting Tape that Bonds High-Speed Transmission FPCs at 180℃
- Supporting Next Generation High-Speed Transmission such as 5G Communication -
Dexerials Corporation (Takashi Ichinose, Representative Director and President, Shinagawa, Tokyo) has achieved the low dielectric constant (i.e., low-κ) required of a flexible printed circuit (FPC) for high-speed transmission to support 5G communication, and has developed the D5200 series of low-κ thermosetting tape for FPCs that can bond signal lines and cover layer or substrate layers of FPCs at 180℃.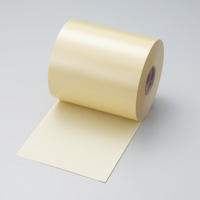 Communication and transmission speed is accelerated in various fields, including smartphones, which are scheduled to introduce 5G communication in Japan in 2020 and automobiles, which use an advanced driving support system that instantly processes various sensor data.
Consequently, transmission of high-frequency signals without loss is required of an FPC that is used for high-speed communication.
Typically, liquid crystal polymer (LCP) is used for the material that bonds signal lines and the cover layer or substrate layers inside a high-speed transmission FPC.
The recently developed D5200 series is a low-κ thermosetting tape that can be used for high-speed transmission FPCs by reducing dielectric constant (κ) to 2.3, the dissipation factor (DF) to 0.0025, and minimizing changes in the dielectric properties, even after water absorption.
Since this product is capable of bonding signal lines and cover layer or substrate layers at 180℃, existing FPC manufacturing equipment can be used.
In general, adding an ingredient that has polar group*1 is necessary to increase bonding strength, even though it also increases dielectric constant and transmission loss.
With the expertise Dexerials has accumulated through its development of adhesives, an optimal amount of epoxy-resin was added for this product to achieve a bonding strength of 13N/10mm to copper foil. The manufacturing of FPCs with enhanced reliability has been made possible by simultaneously achieving both a low dielectric constant and a high bonding strength.
*1

Polar group: a chemical group with uneven distribution of electric charge which strengthens intermolecular force at interfaces between adhesive and adherend.
| | |
| --- | --- |
| Cross-sectional schematic diagram of FPC using the D5200 series(Concept) | |
| Dielectric constant (κ) | 2.30 at 10GHz |
| Dielectric dissipation factor (DF) | 0.0025 at 10GHz |
| Bonding strength to copper foil | 13N/10mm |
| Bonding temperature | 180℃ |
| Use of existing equipment | Compatible |
Click here for corporate profile