Notice of Organizational Reform and Personnel Appointment
Notice of Organizational Reform and Personnel Appointment

Dexerials Corporation (Headquarters: Shimotsuke-shi, Tochigi; Representative Director and President: Yoshihisa Shinya; hereinafter "Dexerials"), which provides leading-edge technologies, materials, and devices for smartphones, automobiles, and other products, announced today that it will revise its organizational structure and appoint executive officers and a division head as described below, effective as of April 1, 2023.
Through this organizational reform, personnel changes, and the job-type personnel system to be introduced on the same date, Dexerials aims to achieve sustainable growth and raise corporate value by accelerating growth in new business domains.
As part of the organizational reforms, Dexerials will establish a company-wide unified manufacturing platform within the Production Strategy Division by transferring the manufacturing functions of the Connecting Materials Business Unit and the Optical Solutions Business Unit to the Production Strategy Division. As a result, Dexerials will further drive initiatives to improve productivity, including optimal allocation of manufacturing resources and DX at production sites. Each business division will focus on expanding new businesses, such as in new product development.
In addition to establishing the Sustainability Promotion Division as a department to promote measures for the sustainable growth of Dexerials and contribute to the creation of a sustainable society, Dexerials will also seek to strengthen its business management functions by integrating DX, information system, public relations and investor relations and organizations into the Corporate Planning & Control Division and reorganizing it as the Business Management Division. The current Corporate Strategy Division will be dissolved, and the officers in charge and subordinate organizations will collaborate with the Dexerials Innovation Group (DIG), which is responsible for driving company-wide technology strategies, while engaging in initiatives for growth in new business areas.
In human resources, Dexerials has established a new Human Resources Division with the aim of utilizing human resources globally and strengthening its portfolio management functions.
Based on the above division structure, Dexerials will design roles and duties that make up each organizational structure under a job-type personnel system, and implement its growth strategy.
Appointments of executive officers and division heads as of April 1 are as follows.
Appointment of Executive Officer and Division Head
Name
New position
Current position

Takashi Yoshida

Executive Officer
Production Strategy Division Head

Executive Officer
Corporate Planning & Control Division Head

Koichi Akeyama

Executive Officer
Corporate Growth Strategy

Executive Officer
Corporate Strategy Division Head

Naoyuki Tsuda

Executive Officer
Human Resources Division Head

Executive Officer
Human Resource Strategy

Kazuyoshi Terashita

Executive Officer
Business Management Division Head

Executive Officer
Finance, IR&SR Strategy

Kouji Yamagishi

<Promoted>

Executive Officer
Sustainability Promotion Division Head

Production Strategy Division Head
*Underlined parts are changes.
[Reference] Executive Officers, Business Unit Heads and Division Heads effective as of April 1, 2023
Yoshihisa Shinya
Representative Director and President, President and Executive Officer
Officer in charge of management and business operations
President and CEO, Kyoto Semiconductor Co., Ltd.
Toshiya Satake
Representative Director, Senior Managing Executive Officer
Officer in charge of management and administration
Representative Director and President, Dexerials Precision Components Corporation
Takashi Yoshida
Executive Officer
Production Strategy Division Head
Kozaburo Hayashi
Executive Officer
Global Sales & Marketing Division Head
Koichi Akeyama
Executive Officer
Corporate Growth Strategy
Kuo-Hua Sung
Executive Officer
Technology Strategy Head
Officer in charge of Dexerials Innovation Group (DIG) Promotion Department
Kentaro Oshima
Executive Officer
Automotive Solutions Business Unit Head
Naoyuki Tsuda
Executive Officer
Human Resources Division Head
Kazuyoshi Terashita
Executive Officer
Business Management Division Head
Kouji Yamagishi
<Promoted>
Executive Officer
Sustainability Promotion Division Head
Kazuya Hayashibe
Corporate R&D Division Head
Board Member, Kyoto Semiconductor Co., Ltd.
Hiroshi Uchida
Optical Solutions Business Unit Head
Kenji Kamiya
Connecting Materials Business Unit Head
[Reference] Organization Chart on April 1, 2023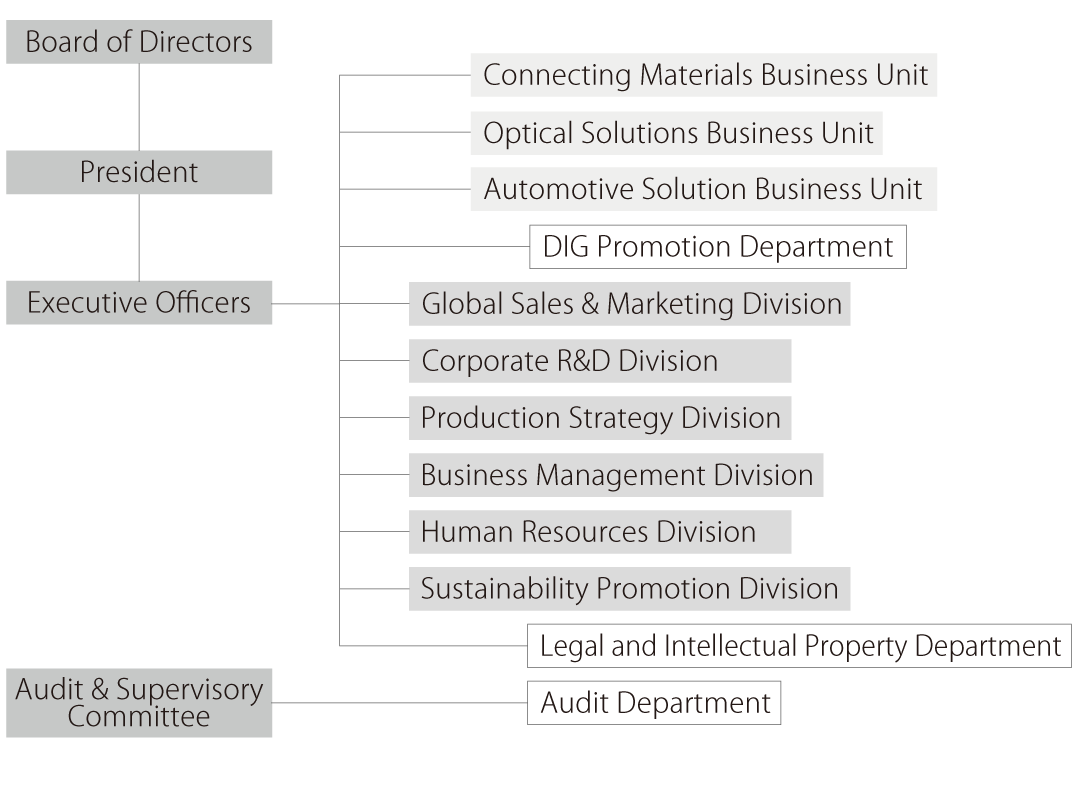 Click here for corporate profile