Notice of Appointment of Executive Officer
Notice of Appointment of Executive Officer

Dexerials Corporation (Headquarters: Shimotsuke-shi, Tochigi; Representative Director and President: Yoshihisa Shinya; hereinafter, "Dexerials"), which provides leading-edge technologies, materials, and devices for smartphones, automobiles, and other products, announced today that it will appoint an executive officer as described below, effective as of January 1, 2023.
A new executive officer is appointed for the purpose of strengthening the financial strategy, capital policy and IR/SR functions.Details are as follows.
Appointment of Executive Officer
Name
New position*
Current position
Kazuyoshi Terashita
<New appointment>
Executive Officer
Finance, IR&SR Strategy
Executive Adviser
*Underlined parts are changes.
[Reference] Executive Officers, Business Unit Heads and Division Heads effective as of January 1, 2023
Yoshihisa Shinya
Representative Director and President, President and Executive Officer
Officer in charge of management and business operations
President and CEO, Kyoto Semiconductor Co., Ltd.
Toshiya Satake
Representative Director, Senior Managing Executive Officer
Officer in charge of management and administration
Representative Director and President, Dexerials Precision Components Corporation
Takashi Yoshida
Executive Officer
Corporate Planning & Control Division Head
Kozaburo Hayashi
Executive Officer
Global Sales & Marketing Division Head
Engineering Solution and Marketing
Koichi Akeyama
Executive Officer
Corporate Strategy Division Head
Kuo-Hua Sung
Executive Officer
Technology Strategy Head
Officer in charge of Dexerials Innovation Group (DIG) Promotion Department
Kentaro Oshima
Executive Officer
Automotive Solutions Business Unit Head
Naoyuki Tsuda
Executive Officer
Human Resource Strategy
Kazuyoshi Terashita
<New appointment>
Executive Officer
Finance, IR&SR Strategy
Kazuya Hayashibe
Corporate R&D Division Head
Board Member, Kyoto Semiconductor Co., Ltd.
Kouji Yamagishi
Production Control Division Head
Hiroshi Uchida
Optical Solutions Business Unit Head
Kenji Kamiya
Connecting Materials Business Unit Head
[Reference] Organization Chart on January 1, 2023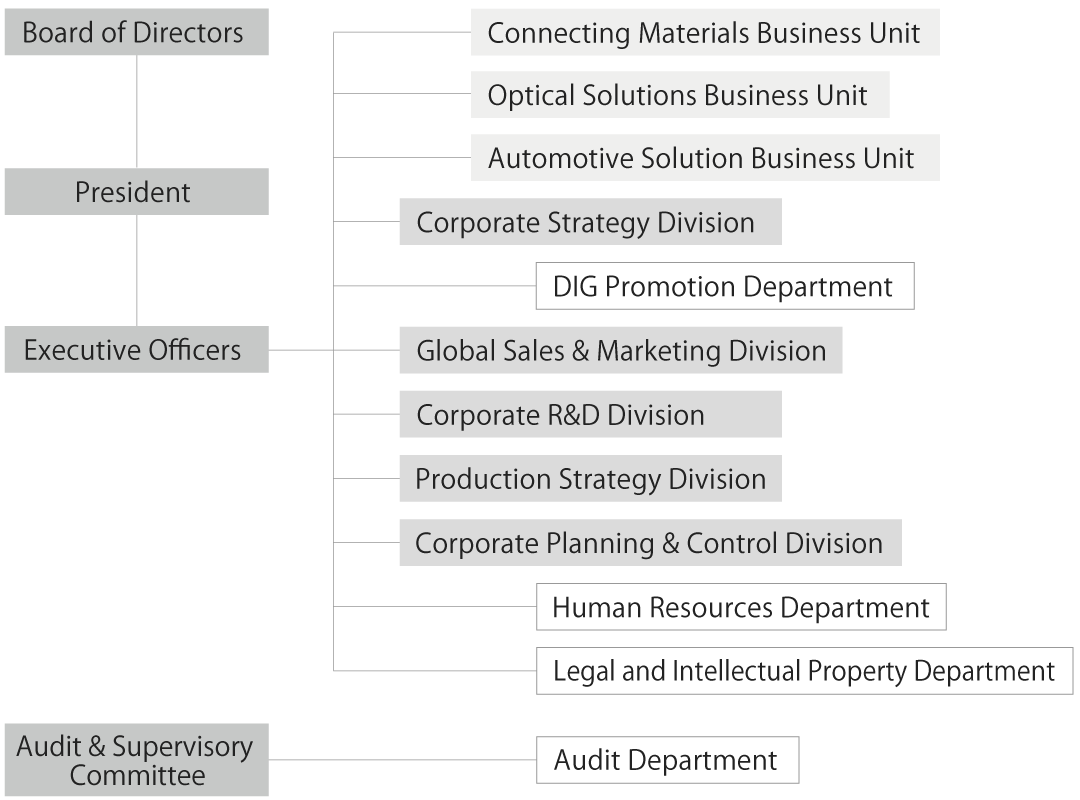 Click here for corporate profile