Commercialization of Anti-reflection Film "HD Series"
Commercialization of Anti-reflection Film "HD Series" with Durability of Topmost Surface Improved by 40 Times or More
-Several Notebook PC Manufacturers Decide to Adopt the Product, Which is Suitable for Automotive Displays-
Dexerials Corporation (Headquarters: Shimotsuke-shi, Tochigi, Representative Director and President: Yoshihisa Shinya; hereinafter the "Dexerials"), which provides leading-edge technologies, materials, and devices for smartphones, automotives, and other products, announced that it has commercialized the anti-reflection film "HD Series". Anti-reflection film "HD Series" has an abrasion durability that has been increased by 40*1 times or more compared to current products, by forming an anti-smudge layer on the top surface using the vacuum deposition method. Dexerials has commenced shipping while several notebook PC manufacturers have already adopted the product.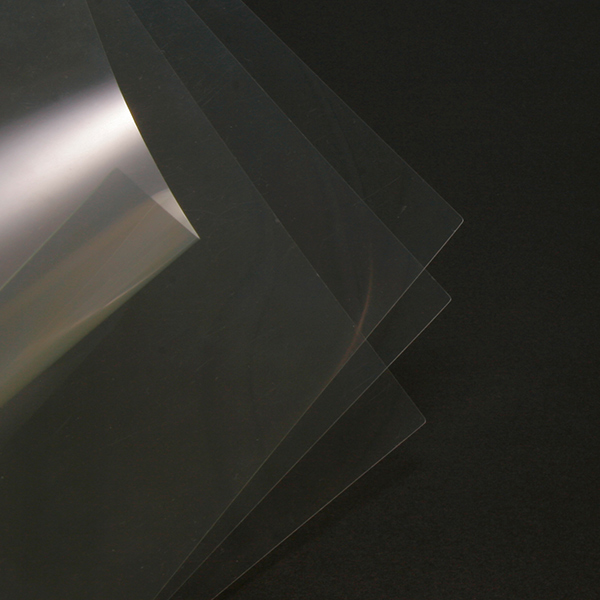 Dexerials's anti-reflection film realizes excellent low-reflectance performance using sputtering technology*2 to form a metallic oxide layer with nanometer precision. The product boasts the world's largest market share.*3 The top surface of the film is provided with an anti-smudge layer made of fluororesin to prevent fingerprints and dirt from sticking to the film and to enable easy wiping.

The commercialized anti-reflection film "HD Series" has abrasion durability more than 40 times higher for an anti-smudge layer of the top surface. Dexerials's current products use the wet coating method, that is, applying an anti-smudge coating dissolved in a solvent, followed by drying with a heater and volatilizing the solvent to form an anti-smudge layer. The vacuum deposition method enables formation of an anti-smudge layer with high durability, low-friction, and slippery by vaporizing an anti-smudge coating and directly adhering it to an anti-reflection layer that is a base material. Because of the high abrasion durability, the "HD Series" is suitable for such applications as notebook PCs with a touch panel, which are becoming increasingly popular, 2-in-1 laptops that can also be used as tablet PCs, and automotive displays, demand for which will rise with the introduction of electric vehicles.
Dexerials developed the "HD Series" in July 2020 and introduced manufacturing equipment in spring 2021. It then informed its customers, shipped samples, and gained customers certificates in preparation for the commercialization. As a result, several notebook PC manufacturers have adopted the product. Dexerials has received many inquiries about uses such as smartphones, foldable devices, and automotive displays as well as notebook PCs. Among the uses, the "HD Series" is suitable for the anti-reflection film for automotive displays because of the long durable life and higher durability since the use is subject to severe use conditions such as temperature and humidity.
To meet demand, Dexerials has already decided to introduce new equipment designed to permit high-efficiency production of "HD Series" for automotive displays at its headquarters and Tochigi Technology Center (Shimotsuke-shi, Tochigi). It will begin to operate the equipment in April 2023.
Displays are likely to play a greater role given the development of digital technology and further evolution of applications. Dexerials will refine its unique and innovative technologies, products, and solutions such as anti-reflection films manufactured by the sputtering technology and contribute to digitization and the introduction of IoT in society, and to automotive innovation.
Details of Anti-reflection film "HD Series"
■Product Name
Anti-reflection film "HD Series"
■Features
An anti-smudge layer on the top surface formed using the vacuum deposition method
The reactive groups of anti-smudge coating are directed to an anti-reflection layer and aligned evenly because of the vacuum deposition method. High anti-smudge property and high abrasion durability with low friction are realized due to dense and strong bonding.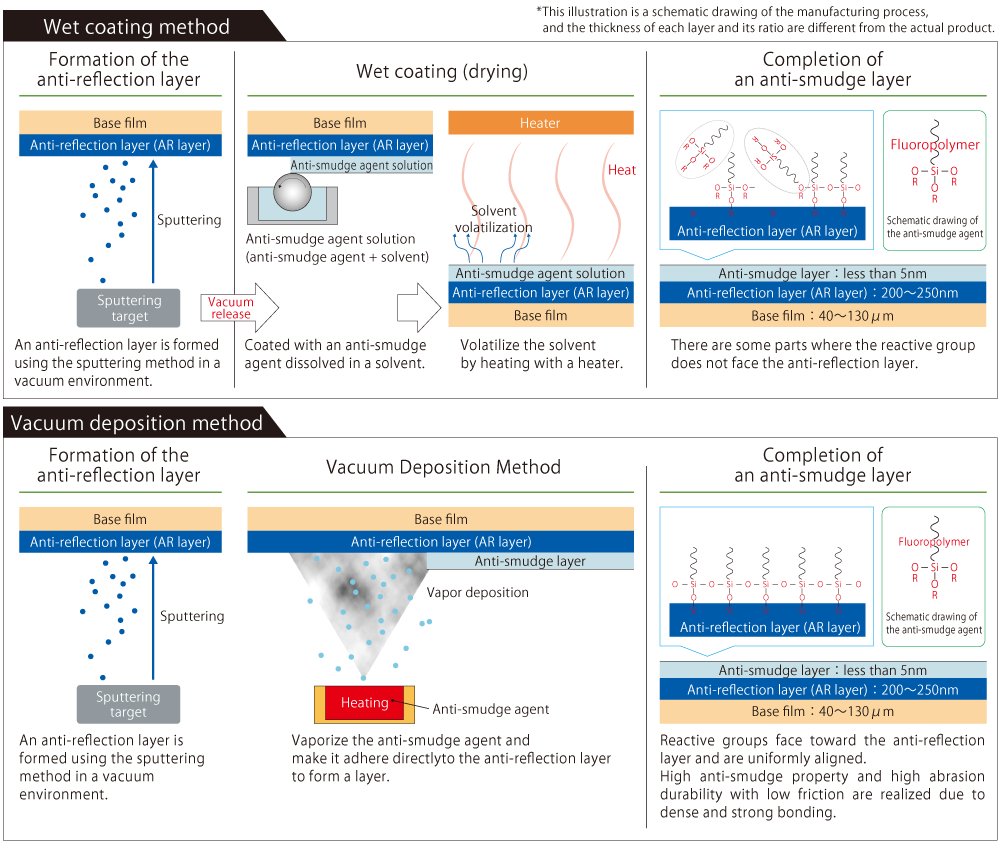 The abrasion durability of an anti-smudge layer on the top surface increased by 40*1 times or more
The initial water contact angle of 120° was realized. In the abrasion tests using nonwoven fabric wipers, angle was maintained at 110° or more, even when the abrasion cycles exceeded 20,000.

Production permitted at the new equipment that will start to operate in April 2023 in addition to existing manufacturing equipment
We will introduce a vacuum deposition equipment in existing manufacturing equipment to commence mass production. The new manufacturing equipment will start to operate in April 2023, being capable of forming anti-reflection layers and anti-smudge layers while keeping high efficiency by consistently forming process.
■Specifications
This product
"HD Series"
Current product
Test condition
Method for forming the
anti-smudge layer
Vacuum Deposition Method
Wet Coating Method
Product name
AR200-T0830-JD-HD
AR200-T0810-JD
Haze(%)
0.3
0.3
JIS K7105-6.4
Total transmittance(%)
96
96
JIS K7105-5.5
Luminous reflectance(%)
0.17
0.17
JIS Z8701
Hue of Reflectance
a *
2.3
2.2
JIS Z8781
b *
-8.2
-7.4
Pencil Hardness
3H
3H

Measured with a load of 750g
based on JIS K5600-5-4

Scratch resistance

2,000 times
No scratch

10 times
No scratch

Steel wool abrasion test
1,000gf
*1Comparison with our company's current product (AR200-T0810-JD) using the abrasion durability test (nonwoven fabric wiper)
*2Sputtering technology: Also used in the manufacturing of semiconductors, this technology involves the formation of a thin film by making a target material collide with ionized argon gas in a vacuum to attach the sputtered atoms to the object.
*3The 2020 share for value amount of surface treatment film(dry coating) according to the "Reality and Future Prospect of Display Related Market 2021"issued by Fuji Chimera Research Institute, inc.
Click here for corporate profile