Pb-free model of Self Control Protector Commercialization of SFJ 15Amperes T Series
Pb-free model of Self Control Protector Commercialization of SFJ 15Amperes T Series
- Reduced environmental impact with small thin Pb-free model-
Dexerials Corporation (Headquarter: Shinagawa-ku, Tokyo, Representative Director and President: Yoshihisa Shinya, hereinafter called our company) announces that it has commercialized and launched SFJ 15Amperes T Series, a new Pb-free model of Self Control Protector (hereinafter called SCP), used as secondary protection device for Li-ion battery packs.
Dexerials' SCP is a surface mounted type fuse used as secondary protection. It utilizes heat element to permanently shut down the circuit when overcurrent and/or overcharging occur due to malfunctioning of the primary protection. Since its launch in 1994, SCPs have been widely utilized in notebook PCs, smartphones and numerous other consumer IT devices. In addition, the scope of application has recently been expanded to power tools, drones and robot vacuum cleaners with the cumulative shipments exceeding 2.3 billion units.*1 In 2018, Dexerials' also developed and launched 22A rated current Pb-free*2 version SCPs to meet latest market demand.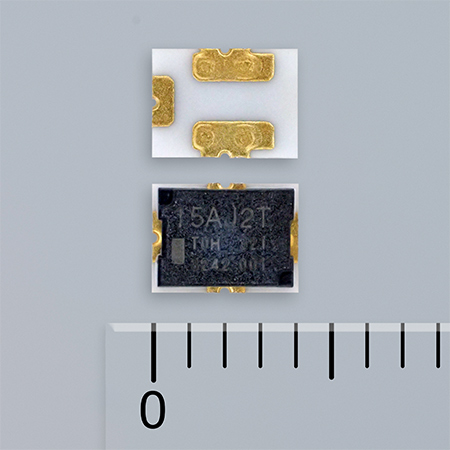 The recently developed SFJ 15 Amperes T Series has a rated current of 15 amperes and is suitable for mobile devices with a high rated current, such as notebook and tablet PCs, cordless vacuum cleaners and power tools.
While maintaining the same small thin size, 4.0 mm (W), 3.0 mm (L) and 0.85 mm (T), the new product is Pb-free, which helps reducing the environmental impact. Moreover, the functioning voltage range per cell has been increased to 4.7V or higher, capable of accommodating the voltage increase requirements in advanced and high performance Li-ion battery packs.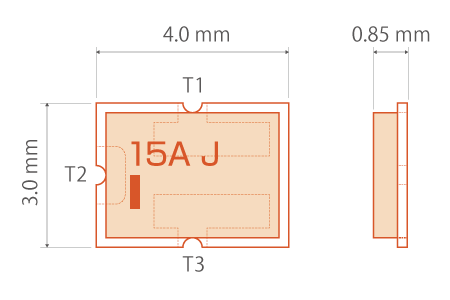 Details of Self Control Protector (SCP) SFJ 15 Amperes T Series
■Product name
Self Control Protector (SCP) SFJ 15 Amperes T Series
(SFJ-0815T/SFJ-1215T/SFJ-1415T/SFJ-2015T)
■Features of the product
Developed a completely Pb-free product
Dexerials modified the ceramic circuit board material structure while using a Pb-free fuse element developed in-house to minimize environmental impact.
The operating voltage per cell is increased to 4.7 V or higher
Voltage per cell increases as the performance of Li-ion rechargeable battery advances. To accommodate this increase, this product's operating voltage per cell has been raised to 4.7 V or higher.
Keeping the same small thin size
While the product is Pb-free, its size of 4.0mm x 3.0mm x 0.85mm has remained the same as in the conventional products, 15Amperes SFJ U Series. Conventional parts can be easily replaced to reduce environmental impact.
■Specifications
Product name
SFJ-0815T
SFJ-1215T
SFJ-1415T
SFJ-2015T
Applicable cells in series
2 cells
3 cells
4 cells
5 cells
Rated current (

A

)
15A
Rated voltage (

VDC

)

*

3

/ Rated breaking capacity (

A)

62/70 (UL/TUV)
48/200, 25/250 (UL)
Operating voltage (

V)

5.0~

9.4

7.4~

14.1

10.5~

19.6

12.5~

23.5

Operating voltage per cell (V)
4.7
4.7
4.9
4.7
Heater resistance (Ω)
1.85~

2.94

4.15~

6.44

8.1~

12.9

11.6~

18.3

Fuse resistance (

m

Ω)
1.5
Dimension (

mm)

4.0 x 3.0 x 0.85
*1

As of the end of April 2021

*2

The European RoHS Directive that restricts usage of hazardous substances defines Pb-free as a Pb content of 1,000 ppm or less.

*3

Maximum voltage at which cutoff of the fuse is possible. It is not the operating voltage for the heater.
Product Information of Self Control Protector (SCP) SFJ 15 Amperes T Series
Click here for corporate profile