Development and Commercialization of a Large-diameter Conductive Particle-arrayed Anisotropic Conductive Film
Development and Commercialization of a Large-diameter Conductive Particle-arrayed Anisotropic Conductive Film (ACF)
– Enabling reliable finer interconnection of camera modules –
Dexerials Corporation (Headquarters: Shinagawa-ku, Tokyo, Representative Director and President: Yoshihisa Shinya, hereinafter called our company) has developed and commercialized the "PAF50C6" as a new Particle-arrayed Anisotropic Conductive Film (ACF) line called "ArrayFIX." This product ensures highly reliable connections and is suitable for miniaturized terminal connections in camera modules or touch panels.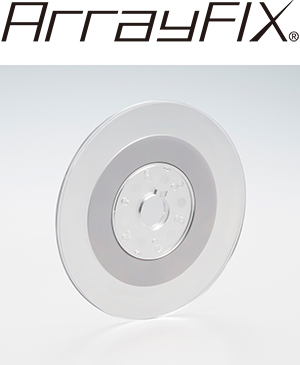 Our Anisotropic Conductive Film (ACF) is a film type adhesive material that provides three functions: adhesion, connection of opposite terminals, and insulation from adjacent terminals. ACF is used for IC chip mounting on flat panel displays and other applications. In 2014, our company launched the Particle-arrayed ACF "ArrayFIX," which supports finer connections by arraying particles and improves connection reliability. Since the launch, our ArrayFIX products have been widely adopted for mobile IT devices with high-definition displays and automotive displays that require highly reliable interconnection.
In addition to display applications, ACF is expanding its range of use for terminal connections such as camera modules, touch panels, and IC cards.
In contrast to terminals in display applications, adjacent terminals in camera modules have wider gaps and the distance between opposing terminals may vary by several tens of microns. ACF for display applications has small-diameter conductive particles to match the finer connections required, while ACF for camera modules require large-diameter conductive particles to establish metal-to-metal contact between the larger terminal gaps. Having large-diameter conductive particles ensures that the electrical connection can be reliably established.
Furthermore, in recent years, along with the trends of downsizing and multi-functionality of mobile IT devices, demand has been growing for materials that offer fine pitch interconnections between adjacent terminals and absorbing variations in distances between opposing terminals.
The "PAF50C6" developed by our company is a product in which large-diameter conductive particles are arrayed in order to absorb variations in distances between opposing terminals and to enable fine pitch interconnections between adjacent terminals. By incorporating a new technology into the process of arraying particles, we succeeded in arraying large-diameter conductive particles in micron unit. With the new "PAF50C6", it is now possible to insulate adjacent terminals while maintaining electrical conductivity between opposing terminals.
As a result, ACF can handle a wider variety of adherends and connection spaces than conventional products and can be used for various terminal connections. This product has already been adopted and approved for mass production for connecting camera modules in mobile IT devices.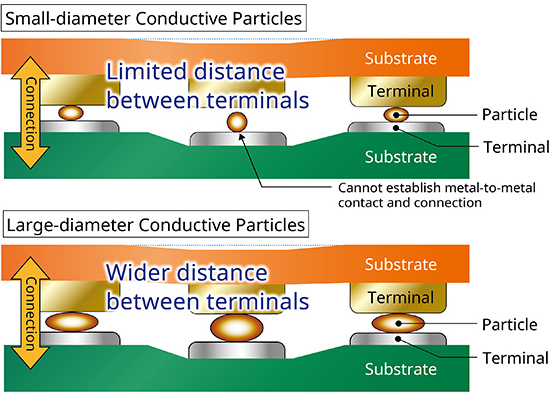 ■Specifications
PAF50C6
PAF300C
Use
Camera module and
touch-panel terminal connection
IC chip mounting on display
Conductive Particles
Large-diameter Conductive Particles
Small-diameter Conductive Particles
Conductive Particle Diameter
µmФ
20μ

m

3.2μ

m

Area Density of Conductive Particles
pcs/mm2
600
28,000
Minimum Connection Area
µm2
34,000
300
Minimum Space*1
µm
60
10
*1

: Minimum Space: Space between Adjacent Terminals
■Conductive Particles Array Appearance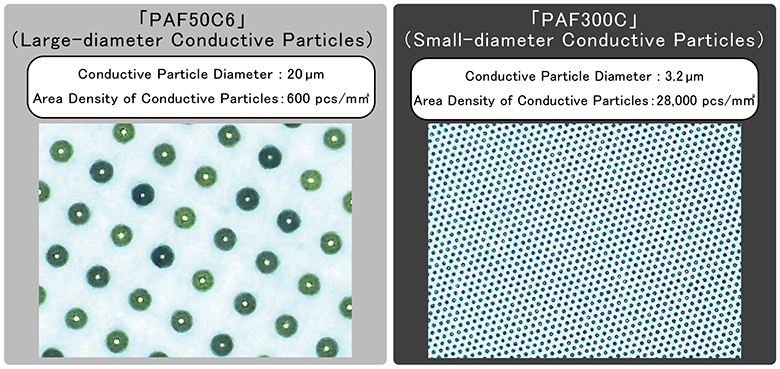 *

ArrayFIX and its logo are trademarks or registered trademarks of Dexerials Corporation in Japan and other countries.

*

The contents of this news release is the information as of the date of the announcement and is subject to change without notice.
Click here for corporate profile