Development of Optical elastic resin "Jettable SVR" corresponding to inkjet coating
Development of Optical elastic resin "Jettable SVR" corresponding to inkjet coating
- Expansion of adoption to various displays due to ease in workability at lamination process of display and flexibility improvement of coating shape -
Dexerials Corporation (Headquarters: Shinagawa-ku, Tokyo, Representative Director and President: Yoshihisa Shinya, hereinafter called our company) has developed Optical elastic resin "Jettable SVR" (hereinafter called jSVR) corresponding to coating with an inkjet device. This developed product has ease in workability and improved flexibility of coating shape by corresponding to inkjet coating. Currently we are proposing to introduce this developed product to electronic products including smartphones and tablet PCs. We also try optimization to automotive display use which requires severer durability and progress the effort toward business expansion.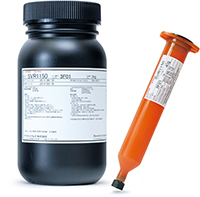 Our company's Optical elastic resin "SVR" (hereinafter called SVR) is acrylic resin to fill air gap with between a display panel indication area and a top plate, and is a liquid adhesive (OCR/LOCA), which not only prevents optical reflection on the interface of air gap and realizes visibility improvement by giving optical characteristics similar to the material of a top plate but also has shock resistance. Since it was placed on the market in 2007, it has been adopted to various displays such as smartphones, tablet PCs and automotive displays. "Hybrid SVR" (hereinafter called HSVR), which has better workability by laminating together after UV pre-curing, was placed on the market in 2013.
Our company is focusing on the direction of the market, where the number of equipping of curved displays and variant displays to smartphones and automotive displays is increasing and the number of lamination where liquid adhesives have an advantage is expected to increase, and has been striving to improve ease in workability and the further flexibility of coating shape.
jSVR our company has developed corresponds to inkjet coating, and has better ease in workability remaining excellent optical characteristics which existing optical elastic resin has, and in addition, it is a product that enables coating and laminating to any shape.
Existing Optical elastic resin needed a dispenser or a slit coater for coating and curing to fill the air gap, but this developed product can apply proper amount of resin to an intended position with high accuracy by applying inkjet technology used for printing. Therefore, the flexibility of coating shape has improved, and it is possible to correspond to a notch shape and a display with a hole for an inner camera, and to apply it with a round shape and a character shape. In addition, we will deal with coating to a curved display.
■Example of coating using jSVR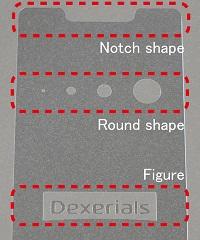 It can be controlled more precisely and freely like coating thickness can be changed partly in conformity with a lamination shape. Thick coating which an automotive display requires can also be available, and we can correspond to the broad requirement of coating thickness.
This developed product can change a coating shape and coating thickness on the software, so the production version can be switched promptly. In addition, the speed of the inkjet coating is faster than that of a dispenser coating and a slit coating, which improves the productivity.
Our company will aim at substituting this developed product for optical clear adhesives (OCA), and adopting it to the new design display which requires complicated shape and thickness variation where existing optical elastic resin is difficult to be used to expand our business.
■Feature comparison between this developed product (jSVR) and existing optical elastic resin
jSVR
HSVR
SVR
Coating
method
・Inkjet coating

・Slit coating

・Dispenser coating

Coating
laminating
method

Apply proper amount of resin to an intended position like printing, and conduct UV pre-curing.
After that, conduct vacuum lamination, and cure fully by UV.

Apply the resin all over evenly, and keep the resin form by UV pre-curing.
After that, conduct vacuum lamination, and cure fully by UV.

Calculate the amount of resin, and apply it on the top plate.
After that, spread the resin all over by reverse lamination of the top plate, and cure the resin with UV.

Coating
shape

As coating shape can be controlled on the software, not only a quadrilateral but also various shapes of coating are possible.

Due to the slit coating, coating shape is limited to a quadrilateral.

In order to prevent the resin from protruding from a display, it is necessary to construct coating shape patterns and control the dam resin on the periphery.

Workability

As the switching of the coating shape due to display change is conducted on the software, the maintenance can be kept to the minimum.

When coating shape is switched due to the display change, the maintenance of the hardware is necessary.

When coating shape is switched due to the display change, the maintenance of the hardware is necessary.
■Specifications
Product name
jSVR※

1

Coater
Inkjet
Pre-curing condition[mJ/cm2]※

2

500~

1,000

Fully-curing condition[mJ/cm2]※

3

≧

1,000

Viscosity

[mPa

・

S]

※

4

10~

30

Hardness※

5

E15~

E40

Refractive

index

※

6

solid
1.45~

1.49

Elastic Modulus

[Pa]

※

7

25℃
104 ~106

Storage

temperature

[

℃

]

10~

30
※1

Specification numbers are not the specified model numbers but the range that can be handled. For the detailed specifications, please ask the person in charge of sales in our company.

※2

LED 365nm

※3

Metal-halide lamp

※4

Rheo-meter @25°

C

※5

Durometer (Code E)

※6

Abbe @25℃ D-line(

589nm

)

※7

DMS method:@1Hz
※

SVR, Hybrid SVR and the logos are registered trademarks of Dexerials Corporation in Japan and/or other countries.

※

Jettable SVR is trademarks of Dexerials Corporation.

※

The contents of this news release is the information as of the date of the announcement and is subject to change without notice.
Click here for corporate profile
Click here for about our products