Developed Anti-reflection film HD Series
Anti-reflection film "AR Film HD Series", of which the durability of the top surface was improved by 40 times or more by forming an anti-smudge layer by the vacuum deposition method, was developed.
- Expanded adoption for touch panel-mounted notebook PCs and automotive displays -
Dexerials Corporation (Headquarters: Shinagawa-ku, Tokyo, Representative Director and President: Yoshihisa Shinya; herein after called our company) has developed an anti-reflection film "AR Film HD Series", of which the abrasion durability of the top surface was improved by 40 times*1 or more by forming an anti-smudge layer by the vacuum deposition method, was developed. Sample shipping of the developed product has already been implemented, and with making capital investment this fiscal year, a system of mass production will be established in the spring of 2021, and the product will be supplied gradually.
Our company's anti-reflection film is a product that realizes excellent low-reflectance performance by forming a metal oxide layer with nanometer precision using sputtering technology. It has been adopted by major notebook PC manufacturers and for many automotive displays. The top surface of the film is provided with an anti-smudge layer made of fluororesin to prevent fingerprints and dirt from sticking to the film and to enable easy wiping.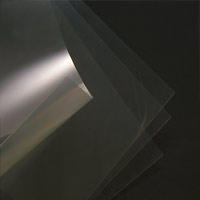 On the other hand, notebook PCs mounted with touch panels and the 2in1 type, which can also be shaped like a tablet, are gaining in popularity, and anti-reflection films used on the top surfaces of displays are required to have higher abrasion durability so as to be able to cope with frequent touch operations using fingers and stylus pens. In addition, in order to meet the needs of customers who want to replace the cover glass with an anti-reflection film in order to reduce the weight of notebook PCs, or who want to further improve their durability for use as automotive displays, it is necessary to improve the abrasion durability of the anti-smudge layer of the anti-reflection film.


Our company has used the wet coating method, that is, applying an anti-smudge coating made of a fluororesin dissolved in a solvent, followed by drying with a heater and volatilizing the solvent to form an anti-smudge layer. In addition, in order to improve abrasion durability, we introduced a new method of forming the anti-smudge layer on the top surface using vacuum deposition, and developed a new "AR Film HD Series."
The developed product retains the excellent optical properties of current products, such as a reflectance of 0.5% or less and a transmittance of 95% or more, and realizes the abrasion durability of the anti-smudge layer of more than 40 times that of current products.

In the newly introduced vacuum deposition method, fluororesin, which is the material used to form the anti-smudge layer, is vaporized and directly adhered to the anti-reflection layer, which is the base material used to form the layer. As a result, the anti-smudge layer is formed more densely than when using the wet coating method. This makes it possible to form a highly durable, low-friction, and slippery anti-smudge layer which is superior to current products.


In addition to the introduction of the vacuum deposition method, our company's know-how in surface treatment and thin film formation technologies have been utilized to further improve abrasion durability.
The initial water contact angle of 120° was realized, and in abrasion tests using nonwoven fabric wipers, the water contact angle was maintained at 110° or more, even when the abrasion cycles exceeded 20,000*2, and a high anti-smudge function was confirmed. We have already applied for patents related to this developed product.


Furthermore, in the production of the developed product, the integrated film formation from the anti-reflection layer to the anti-smudge layer can be performed in the same equipment by the roll-to-roll process, and it further improves production efficiency.
■Comparison between the wet coating method and the vacuum deposition method in forming the anti-smudge layer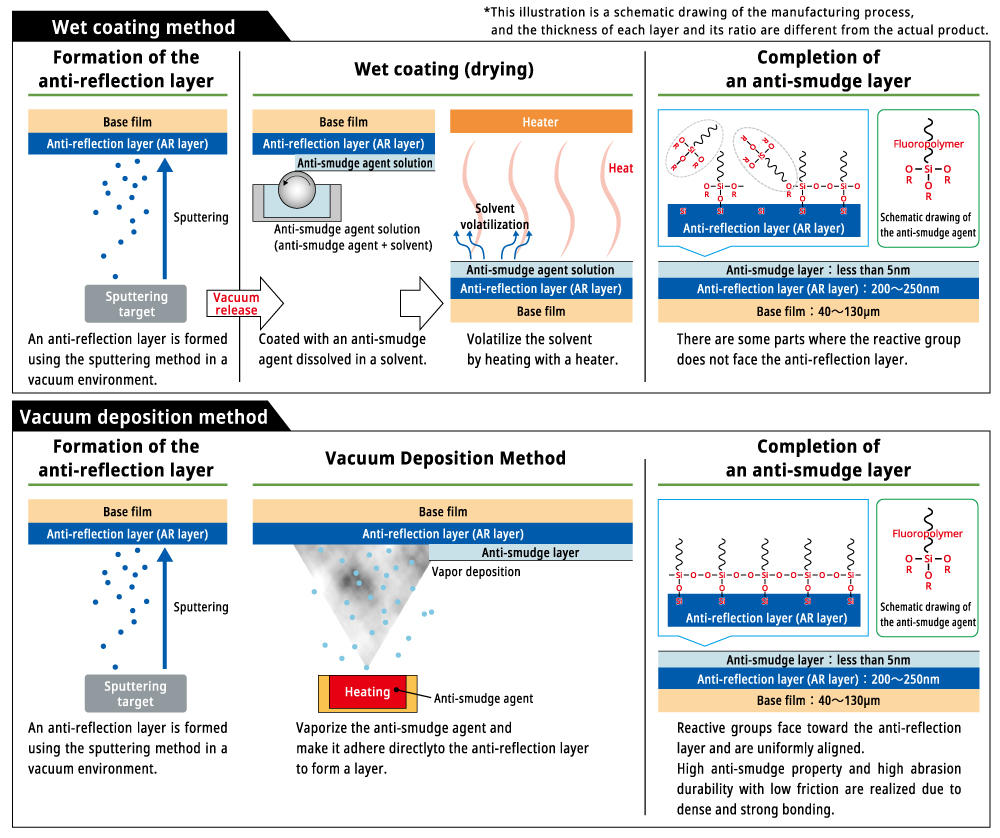 ■Specifications
Developed product
Current product
Test condition
Method for forming the
anti-smudge layer
Vacuum Deposition Method
Wet Coating Method
Product name
AR200-T0810-JD-HD
AR200-T0810-JD
Haze(

%

)
0.3
0.3
JIS K7105-6.4
Total transmittance(

%

)
96
96
JIS K7105-5.5
Luminous reflectance(

%

)
0.17
0.17
JIS Z8701
Hue of Reflectance
a *
2.3
2.2
JIS Z8781
b *
-8.2
-7.4
Pencil Hardness
3H
3H

Measured with a load of 750g
based on JIS K5600-5-4

Scratch resistance

2,000 times
No scratch

10 times
No scratch

Steel wool abrasion test
1,000gf
*1

Comparison with our company's current product (AR200-T0810-JD) using the abrasion durability test (nonwoven fabric wiper)

*2

Based on our company test
Click here for corporate profile