Development of Optical Elasticity Resin (SVR) for Small-to-Medium-sized Display Panels that is Transformed PSA
Development of Optical Elasticity Resin (SVR) for Small-to-Medium-sized Display Panels that is Transformed PSA Property during UV Curing

Dexerials has newly developed a PSA-transformable optical elasticity resin (SVR) for small-to-medium-sized flat panel displays (FPD) that is transformed adhesion properties after UV curing. While maintaining outstanding optical properties of SVR, which is known for its high visibility as well as abilities to improve contrast and shock-resistance, the new product realizes workability equivalent to that of optical clear adhesive and reduces color unevenness caused by shrinkage during curing.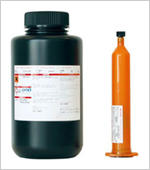 To enhance FPD visibility and contrast ratio, the cover glass and display module are laminated with optical adhesive film or laminated using optical resin filling. While optical adhesive film is easy to handle and offers good workability, in some cases, air bubbles that become trapped in the level variations of the printed area of the frame printed on the back of the glass cover when air bubbles are removed during the heat press and auto-clave processes are difficult to remove.
On the other hand, while liquid processes offer outstanding smoothness and level variation absorption performance, lamination is carried out after coating and this has given rise to the problem of liquid seepage in cases where the frame is narrow. This is particularly the case with 7-15 inch class medium-size FPDs on devices such as tablet PCs where devices and frames are becoming increasingly slimmer and, with the existing SVR, it is becoming increasingly difficult to ensure an even wet-spreading of the liquid over a wide area and control seepage at the panel edges.
60-80% curing state by UV pre-curing of the newly-developed PSA-transformable optical elasticity resin after coating on the printed surface of the cover glass and absorbing level variation brings out the adhesion properties of the product, enabling lamination with workability equivalent to that of optical adhesive film. Moreover, because UV-curing shrinkage has progressed before lamination, the curing shrinkage ratio during final UV curing is only 0.5-1.2%, and it is expected that this will lead to improved reliability by realization of benefits such as major reductions in panel color unevenness.
Comparison of lamination processes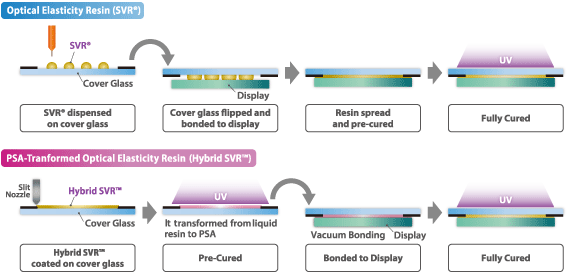 Comparison of Specifications with Existing Product
Product Name
SVR1120
PSA Transformable SVR
Remarks
Application
Small-to-medium-sized
display panel
Small-to-medium-sized
display panel
-
Refractive index
After curing
1.52
1.53
Abbe @25℃
Viscosity (mPa・s)
3,500
5,000
Rheo-meter @25℃
Hardness (Code E)
9
16
Durometer (Code E)
Curing shrinkage ratio (%)
1.6
3.3
Density meter
Pre-curing conditions (mJ/cm²)
-
1,000~2,000
Metal halide lamp
Final curing conditions (mJ/cm²)
5,000
1,000
Metal halide lamp
Main constituent: Acrylic UV-curable resin, Color: Transparent
<About Optical Elasticity Resin (SVR®)>
Filling the space between the cover and display with refractive index-controlled (equivalent to the index of the cover) optical elastic resin cuts down light dispersion compared to the air gap structure and enables improved visibility. In addition, the resin filler itself has elastic properties which enable it to act as a cushion that softens impact from the outside, thereby not only protecting parts such as the cover and display module, but also preventing scattering of glass in the event that the cover is damaged, thus simultaneously realizing reinforcement of the panel strength.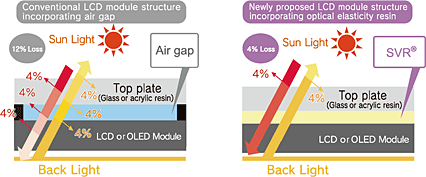 The developed product is currently patent pending.
Dexerials also plans to provide information on matters such as construction methods and equipment together with sample shipments.
Please note that this product will be on display at the "SID Display Week 2013" to be held May 21 (Tuesday) - 23 (Thursday), 2013 in Vancouver, Canada. We look forward to welcoming visitors to our booth (Booth number 509).
Company Overview
- Dexerials Corporation
- Representative Director and President: Takashi Ichinose
- Headquarters: Gate City Osaki, East Tower 8F, 1-11-2 Osaki, Shinagawa-ku, Tokyo 141-0032, Japan
- Principal operations: Manufacturing and sales of electronic parts, adhesive materials and optical materials.