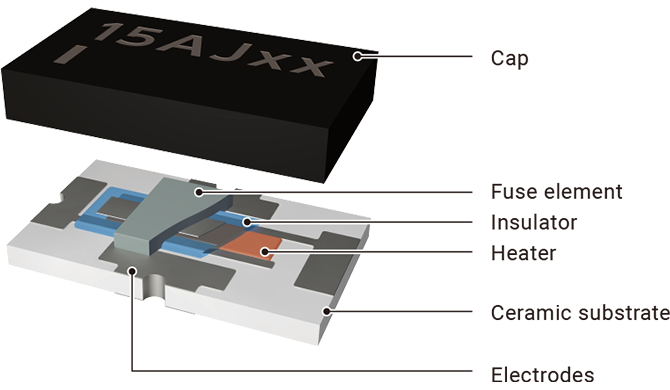 How does it work?
Li-ion batteries are small/lightweight high-performance power sources. However, they differ from other types of batteries in that they are highly volatile and flammable when overcharge. For this reason, their battery management system (BMS), which controls charge/discharge requires added safety to prevent both overcurrent and overcharge.
Dexerials' SCP is a fuse installed in the BMS. When a battery is overcharged, a large current passes through an internal heater and generates heat. The heat melts the fuse element placed directly above the heater. In addition, an external short-circuit (overcurrent) produces Joule heat that melts a fuse element just like a common fuse. In both cases, safety of the battery is improved by physically isolating the battery from the circuit.
Example of overcharge protection

When the heater melts the fuse element to prevent overcharging, the current stops flowing through the heater as soon as the charging circuit is cut off.

Example of current protection

Joule heat produced by an overcurrent melts the fuse element to stop the current.
Reasons for choosing Dexerials' SCP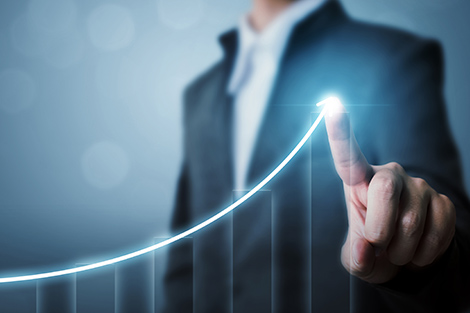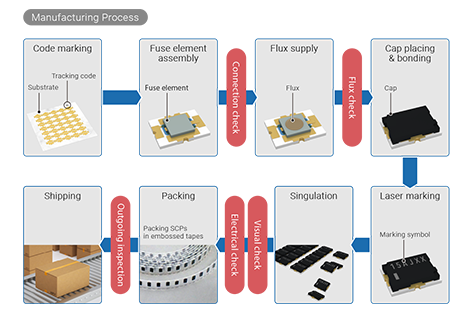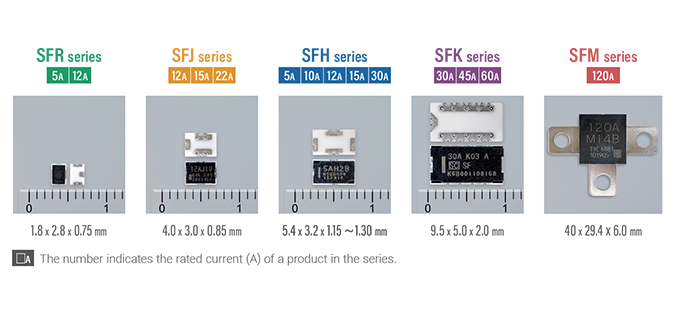 Product lineup for High Current Li-ion Batteries
60 Amperes SFK Series Self Control Protector(SCP)
Features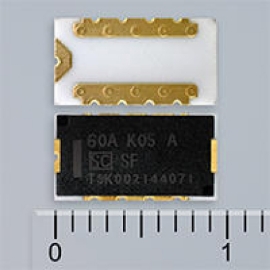 Specifications
Product name
SFK-1260
SFK-1460
SFK-2060
SFK-3060
SFK-4060
SFK-5060
Applicable cells in series
3 cells
4 cells
5 cells
6 to 7 cells
9 to 10 cells
12 to 14 cells
Rated current(A)
60
Rated voltage(VDC)*
80
Rated breaking capacity(A)
160
Operating voltage(V)
9.6 to 13.5
13.0 to 18.4
16.7 to 23.5
22.3 to 31.5
33.0 to 46.9
43.7 to 62.0
Heater resistance(Ω)
1.83 to 2.75
3.1 to 5.1
5.6 to 8.4
10.0 to 15.0
22.0 to 33.0
38.5 to 57.76
Fuse resistance(mΩ)
0.8
Dimension(mm)
9.5 x 5.0 x 2.0
*Maximum voltage at which cutoff of the fuse is possible. It is not the operating voltage for the heater.
UL certification: File No. E167588
TUV certification: Certificate No. J9650637
RoHS directive: Conforming
120 Amperes SFM Series Self Control Protector(SCP)
Features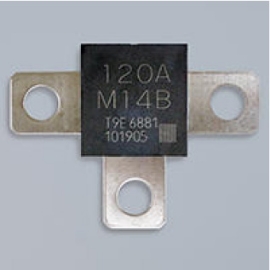 Specifications
Product name
SFM-120120
SFM-14120
SFM-20120
SFM-30120
SFM-40120
SFM-50120
Applicable cells in series
3 cells
4 cells
5 cells
6 to 7 cells
8 to 11 cells
12 to 14 cells
Rated current(A)
120
Rated voltage(VDC)*
80
Rated breaking capacity(A)
300
Operating voltage(V)
8.2 to 13.5
10.8 to 18.0
14.2 to 23.5
18.9 to 31.5
29.7 to 49.5
37.7 to 62.0
Heater resistance(Ω)
1.0 to 1.6
1.8 to 2.7
3.0 to 4.7
5.5 to 8.3
13.6 to 20.5
22.0 to 33.0
Fuse resistance(mΩ)
0.5
Dimension(mm)
40.0 x 29.4 x 6.0
*Maximum voltage at which cutoff of the fuse is possible. It is not the operating voltage for the heater.
UL certification: File No. E489967
RoHS directive: Conforming
100 Amperes PTA Series Power Current Protector(PCP)
Features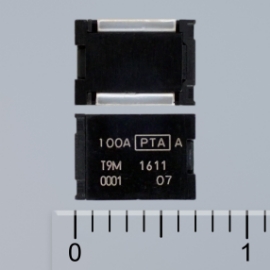 Specifications
| Product name | PTA-036100 |
| --- | --- |
| Rated current(A) | 100 |
| Rated voltage(VDC)* | 36 |
| Rated breaking capacity(A) | 300 |
| Fuse resistance(mΩ) | 0.4 |
| Dimension(mm) | 7.0 x 5.0 x 2.0 |
UL certification: File No. E489967
RoHS directive: Conforming
Solutions for high current Li-ion Batteries