Glass fiber base strong adhesive type double coated tapes
Double coated tapes
Glass fiber base strong adhesive type double coated tapes
Glass fiber base material. Good removability.
Product name

UT3870

Features

High toughness, Durability, and weather resistance Offers both flexibility and high tensile strength.
Can be used in environments of up to 120°C.
Excellent adhesion to glass and metallic surfaces.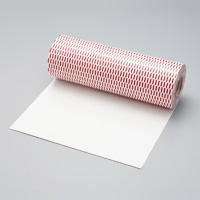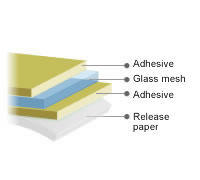 Product name
UT3870
Main component
Acrylic base
Carrier
Special glass mesh
Color
Translucent
Adhesive thickness

(µm)

About 700
Release paper thickness

(µm)

About 130
Bonding strength(N/20mm) *1
39
St'd size

(width & length)

480mm x 20m
Warranty period from manufacturing date
12 months
Ideal for bonding glass, plastic and metallic parts such as automobile exteriors (e.g., external antenna)and automobile interiors (e.g., control switch).
1.Bonding strength on various type of substrate (90° peeling)
Test Piece condition
Tape width :20mm
Bonding condition:One stroke with 2-kg roller
Measuring condition:23°C±5°C 60%±20%RH
Peeling speed:300mm/min
Backing material:40µm aluminum foil

[Left at RT for one day before measurement]


Results
(N/20mm)
90° peeling strength
Product name
Substrate
SUS
Iron
Aluminum
Copper
ABS
PC
Acrylic
UT3870
39.1
40.5
36.2
33.7
28.6
27.2
27.5
2.Holding power at different temperatures
Test Piece condition
Substrate:Stainless steel plate (SUS304)
Bonding area:25mm x 25mm
Bonding condition:One stroke with 2-kg roller
Backing material:40µm Aluminum foil

[Left at RT for one hour and then at each temperature for 30 minutes before measurement]
[Creep length after one hour application of 1-kg load]


Results
Creep length (mm)
product name
Measurement temperature
120

°

C
150

°

C
UT3870
1.2
1.6
Note on the characteristic data given - Data on the characteristics of the products described in this page based on the results of evaluations carried out by the company. This does not guarantee that the characteristics of the product conform with your usage environment. Before use, review the usage conditions based on evaluation data obtained from the equipment and substrates actually used.
---