Conductive adhesive double coated tapes
Double coated tapes
Conductive adhesive double coated tapes
Electrically conductive. Effective in reduction of thickness and weight.
Product name

T4420W

Features

Conductive adhesive ensures conductivity in the thickness direction.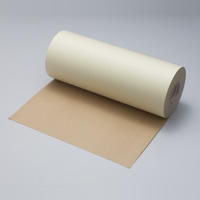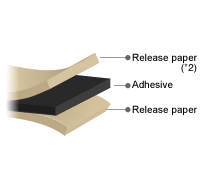 Product name
T4420W *2
Main component
Conductive acrylic base
Carrier
Non-carrier
Color
Black
Adhesive thickness

(µm)

About 35
Release paper thickness

(µm)

About 115 + 115
Bonding strength(N/20mm) *1
6
St'd size

(width & length)

500mm x 100m
Resistance(Ω)
(thickness direction)
0.07
Warranty period from manufacturing date
12 months
*1

180° peeling strength

*2

With both side release paper.
For shielding the interior of mobile device housings, computers and cellular phones; ideal for bonding metal to metal where both bonding and conductivity are required.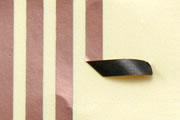 1.Resistance of each product
<Measuring method>
[Adjust the ampere to 1.0 A power supply, then measure the voltage between both electrodes to compute the resistance with a formula, R=E/I]
Results
Voltage Resistance (Ω) *thickness direction
Product name
Voltage
T4420W
0.2 or less
Note on the characteristic data given - Data on the characteristics of the products described in this page based on the results of evaluations carried out by the company. This does not guarantee that the characteristics of the product conform with your usage environment. Before use, review the usage conditions based on evaluation data obtained from the equipment and substrates actually used.
---