General-purpose double coated tapes
Double coated tapes
General-purpose double coated tapes
High-performance, general-purpose double coated series usable for various purposes produced employing Green tape ®.
Product name

G4000

Features

No solvent used at coating process. UV curable manufacturing method.
High adhesive quality (heat resistance and weather resistance) for wide ranging applications.
Excellent adhesion to rough surfaces.
Excellent adhesion to various types of rubber and urethane.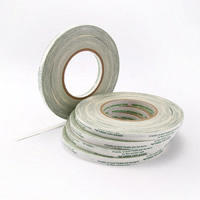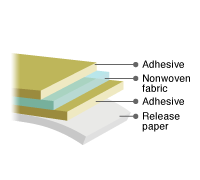 Product name
G4000
Main component
Acrylic base
Carrier
Nonwoven fabric
Color
Translucent
Adhesive thickness

(µm)

About 150
Release paper thickness

(µm)

About 120
Bonding strength(N/20mm) *1
17

St'd size(width & length)

1,020mm x 50m
Warranty period from manufacturing date
12 months
UL certificated. UL file No:( UL969 No.MH15431)

*1 180° peeling strength

Ideal for bonding foam materials, including backing materials and vibration suppression materials, and fixing of speaker grilles of large LCD televisions.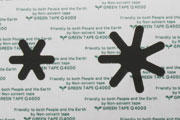 1.Bonding strength on various type of substrate (180° peeling)
Test Piece Condition
Tape width:20mm
Bonding condition:One stroke with 2-kg roller
Measuring condition:23°C±5°C 60%±20%RH
Peeling speed:300mm/min
Backing material:25µm PET

[Left at RT for one hour before measurement]
Results
(N/20mm)
180° peeling strength
Product name
Substrate
G4000
SUS
ABS
PS
PP
16.8
14.1
13.0
9.9
2.Holding power at different temperatures
Test Piece Condition
Substrate:Stainless steel plate (SUS304)
Bonding area:25mm x 25mm
Bonding condition:One stroke with 2-kg roller

[Left at RT for one hour and then at each temperature for 30 minutes before measurement]
[Creep length after one-hour application of 1-kg load]
Results
Creep length(mm)
Product name
Measurement temperature
40

°

C
60

°

C
80

°

C
G4000
0.3
0.4
0.6
3.Adhesion to urethane foam : Rebounding proof test (180°bending)
Test Piece Condition
Substrate(1) (Support material):Aluminum plate, 0.5mm thick
Substrate(2):Urethane foam, 5 mm thick
Adhesion width:20mm
Adhesion length:5mm, 10mm
Measuring condition:23°C, 50°C
Bonding condition:80% pressure (ether and ester)

[Measurement of lifting height (mm) under each test condition]
Results
Lifting height (mm)
Product name
Measurement condition
Condition
Left at RT
Left at 50°C
G4000

Adhesion length
5mm

Ether
3 days
〇
〇
7 days
〇
〇
Ester
3 days
〇
0.5mm
7 days
0.5mm
0.5mm

Adhesion length
10mm

Ether
3 days
〇
〇
7 days
〇
〇
Ester
3 days
〇
〇
7 days
〇
〇
Note on the characteristic data given - Data on the characteristics of the products described in this page based on the results of evaluations carried out by the company. This does not guarantee that the characteristics of the product conform with your usage environment. Before use, review the usage conditions based on evaluation data obtained from the equipment and substrates actually used.
---