Dexerials Through the Eyes of Takashi Yokokura
External Director Interview
Dexerials Through the Eyes of Takashi Yokokura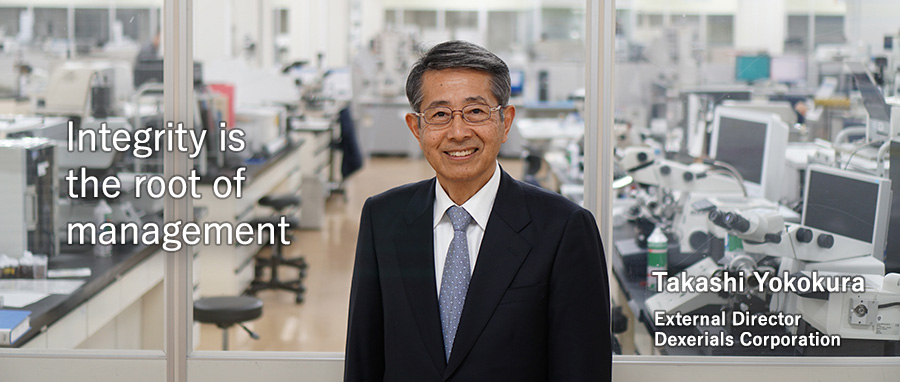 We asked Takashi Yokokura, an external director of Dexerials who has held a series of high-level positions in a listed company and has extensive knowledge of corporate management, about the quality control and production structure at Dexerials.
Dedicated Manufacturing That Earns Trust
――What are your views on how quality control should be handled?
Recently a series of incidents have come to light that involve such problems as cover-ups, failure to follow the rules, and inconsistent implementation of special measures at manufacturing plants by groups of individuals and organizations that do not just involve a single company but extend beyond whole industries. The original purpose of quality control is to ensure quality, and the systematic activities that a company undertakes to check and verify that customer needs are met are quality assurance. Unfortunately, however, the practice of leaving quality manufacturing up to the frontlines has been continued for a long time. The original intent behind the actions taken to achieve the targeted quality effectively and efficiently has been lost somewhere along the way and this has led to contorted decisions on the frontlines that miss the mark.
――What is your impression of our initiatives in quality control?
My experience in the manufacturing industry has given me a high regard for technical skills and production capabilities. I have toured plant sites to confirm the actual conditions on the frontlines in initiatives aimed at improving such capabilities. My assessment is that CTQ* management is functioning properly at Dexerials. The actions being taken to achieve improvement are visualized, and steady progress is being made. Support is also provided for optimal production (ensuring high yield and high quality) that extends directly through the process at the customer's site. This is earning a high degree of trust from customers.
Analysis is a particularly important function that supports the business base for functional materials. Dexerials provides a wide range of equipment for analysis extending from the atomic and molecular level to evaluating the functions of the finished product. Moreover, there is a need to meet the highly specific needs of customers in the display sector. This is achieved through physical inspection by sight in addition to inspection with AI. Touring the Technology Center enabled me to gain an appreciation of how highly customers trust the technical skills and response capabilities of Dexerials in analysis.
A Production Structure That Will Achieve Sustainable Growth
――What do you think about our policy on production structure?
Dexerials consolidated technology and part of its production in the Tochigi Technology Center in 2016. This occurred shortly after the company was listed on the stock exchange and management made this decision from the perspective of what should be done to achieve growth in the future.
I had the opportunity to participate in a technical exchange meeting held right after the new location began operations. All relevant people, including marketing personnel, gathered in one hall and an energetic broad-ranging discussion ensued. I was impressed by the open-minded corporate culture.
In addition to strengthening the structure to achieve optimal, high-quality production with no waste, the new Tochigi Technology Center will serve as the main plant in the production structure on a global basis. The analysis and evaluation functions that are key to supporting R&D on and manufacturing of functional materials have been centralized in the center. Unifying management is deepening communication and generating synergistic benefits. I believe that this is important for business activities.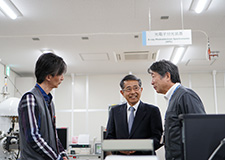 ――In closing, what special message would you like to give to our shareholders?
I think that integrity is the root of management at Dexerials and demonstrating it means being totally sincere. Dexerials has always based management of the company on being sincere in all matters and I agree with that. I hope that all employees will embody that principle. The aspects of corporate culture that I was most impressed with during my tour of the Tochigi Technology Center, at the technical exchange meeting, and in observing the company-wide activities aimed at improving production quality was cultivated at its predecessor company of Dexerials. Being able to confirm that company practices have been rooted in its principles since immediately after it was founded impressed me greatly. As an external director, I am confident that shareholders can put their trust in the quality control and production structure of Dexerials.
* CTQ: Critical to Quality, important needs that must be resolved by management