Masao Hirano's Perspective on Dexerials
External Director Interview
Masao Hirano's Perspective on Dexerials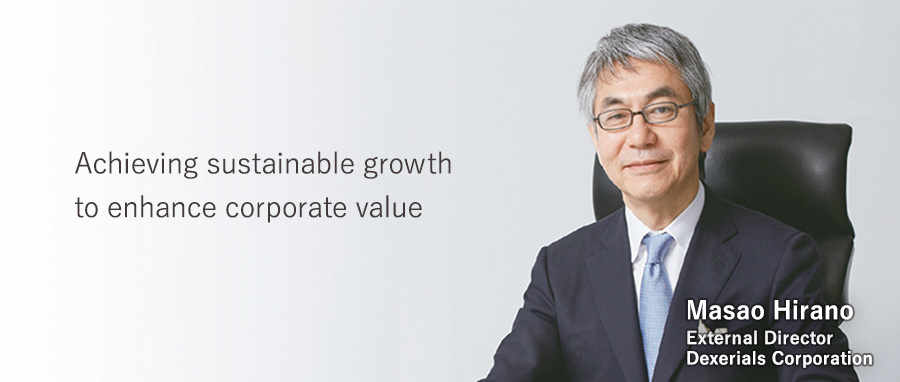 Masao Hirano describes Dexerials' governance and management system from the viewpoint of an external director.
Dexerials' Management System
--What are your views on Dexerials?
Dexerials is a young company that publically listed last year. That said, the road to that milestone was a long one. Dexerials has its origins in the former Sony Chemicals Corporation, a company founded back in 1962. The former Sony Chemicals was at one time publically listed, but soon after became a wholly owned subsidiary of Sony Corporation. Eventually in 2012, the company was spun off from Sony and Dexerials was born. In this way, Dexerials has experienced several changes in shareholders. Perhaps this is why one can say that Dexerials is a company with a keener awareness than ever of shareholder profit and relationships with shareholders. At any rate, the current management team has shown that they know how to successfully gain independence via LBO (Leveraged Buyout), and moved to strengthen both shareholder value management and corporate governance through dialogue with the investment fund that was a shareholder at the time. Even now as a publicly traded company, the management team continues to show disciplined management that emphasizes shareholder value.
--Could you tell us your impression of corporate governance at Dexerials?
For example, Dexerials' Board of Directors consists of three internal officers and four external ones; having external officers as the majority of board members ensures both a high degree of independence and objectivity. This is ahead of the curve compared to other Japanese companies, and is probably a good indicator of the management team's high level of awareness of corporate governance.
The backgrounds of the external officers are also diverse, and include a former member of corporate management, an attorney, a female NPO director and a university professor.
External members, including three of the external auditors and supervisory board members, are selected so that they can debate management issues from a range of different perspectives.
The external officers and auditors and supervisory board members are also highly cognizant of their roles, and not only attend meetings of the Board of Directors but also strive individually to grasp business details and management issues, including through visits to production and development sites. As a result, every board meeting sees energetic debate between the external officers and the management team. This consistently leads to decision-making that has a sense of tension and where improving corporate value is foremost in mind.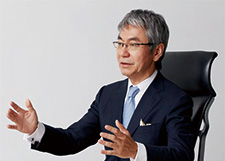 Challenges in Achieving Sustainable Growth and the Role of External Directors
--What is the competitive edge of Dexerials?
Dexerials has a number of competitive products such as films, adhesives and other chemical products used in small- and medium-sized displays mainly for mobile IT devices. Consequently, operating results have expanded in step with the sharp growth of the smartphone market in recent years. The source of this competitive edge is the capacity to develop and fabricate chemical products with optical, adhesive and other functions. Dexerials is especially gifted with respect to technology marketing capabilities, or product development in close consultation with customers. To extend this strength further, technology development is a priority for resource allocation at Dexerials; at the same time, the creation of a customer-oriented organizational structure is gaining momentum. The Board of Directors also values these measures.
--What are the challenges in achieving sustainable growth and the role of external directors in this?
Today, the greatest expectation for Dexerials is to develop the existing small- and medium-sized display field into its next core growth driver. Under the medium-term management plan, in addition to promoting optical film as a new core product, Dexerials has positioned the market development of new business domains, namely the Automotive, Communication & Semiconductor, Environment and Life Sciences domains, as a top priority theme for management. As an external director, I intend to closely monitor this progress, while helping to push flexible management decision-making forward.