Relationships with Society
Communication to Shareholders & Investors
We strive to enhance shareholder value in the medium to long term through highly transparent and reliable disclosure as well as sincere communication.
Disclosure of Corporate Information
For Dexerials, timely and appropriate disclosure to shareholders and investors serves to ensure transparent and fair decision making as well as effective corporate governance functions. We also believe that it contributes to increasing corporate value by promoting public understanding, appropriate market assessment of the company and other measurements. Therefore, we not only undertake disclosure required by laws and regulations, but also publish information proactively through a variety of channels, including the IR section of our website and shareholder reports, working in this way to create a system for highly transparent and reliable disclosure. To ensure that our disclosed information can be easily understood and serves as a useful basis for investment decisions, we adopt reader-friendly language and formats in our materials, as well as provide an English- language version where the information is considered likely to be of particular importance to non-japanese shareholders and investors.
We consider return of profits to shareholders as one of the most important management issues. Based on the recognition that enhancement of corporate value through investments for growth is in the common interest of our shareholders, while prioritizing business investment that will lead to sustainable enhancement of corporate value, our basic policy is to distribute profit to shareholders according to profit growth, with a target total payout ratio*1 to consolidated profit before amortization of goodwill of approximately 40%.
We determine the actual amount of dividends by comprehensively considering factors such as the amount of investments required for growth, the estimated free cash flow*2, the total payout ratio including share buyback and the importance of stable dividend distribution, while securing a sound financial base.
*1

Total payout ratio to consolidated profit before amortization of goodwill

*2

Free cash flow = Operating cash flow + Investing cash flow
General Meeting of Shareholders
Ahead of the Annual General Meeting of Shareholders, we send out the meeting notices as early as possible, provide enhanced information, post documents on our website in both Japanese and English, and take other measures to ensure that shareholders have fair access to data, adequate information to exercise their rights, and sufficient time for reflection. Moreover, we are working to create an electronic voting environment, with a website where individual shareholders can exercise their voting rights online and an electronic voting platform for institutional investors.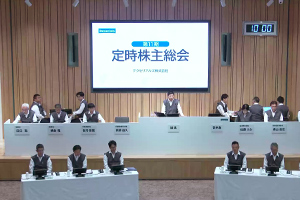 Below is an outline of investor relations activities for the fiscal year 2019.
Activity
Frequency
Contents
Interviews with analysts and Japanese and non-Japanese Institutional investors
163 times

Conducted most individual interviews and telephone conferences online

Briefings for institutional investors and analysts
6 times

Earnings briefings (4 times)
Small meetings for analysts and ESG briefings

Briefings for individual investors
4 times

Held briefings at IR events and investment seminars organized by institutional investors, and streamed online briefings for the first time, with a total of 2,657 individual investors participating

Posting IR materials on website
As appropriate

Posting of materials such as the consolidated financial results and earnings briefings materials, as well as securities reports (quarterly), materials relating to the General Meeting of Shareholders, the IR event calendar, and so on
Streamed videos of earnings briefings and posted briefings materials with transcript and Q&A Posted corporate briefings, product introductions, shareholder questionnaire survey results, and "Who We Are" and "Business Model" on our website and smartphone site as contents for individual investors