Relationships with Society
Procurement of Parts and Materials Used in Dexerials Products
For the purposes of global environmental conservation and the realization of a sustainable society, Dexerials has established a set of Management Standards for Environment-Related Substances, which specify prohibited materials and materials to be reduced, and manufacturing is carried out on this basis. Dexerials designates suppliers who cooperate with these standards as Dexerials Green Partners. In principle, the Dexerials Group procures all raw materials and parts used for its products from suppliers who have qualified as Dexerials Green Partners. In terms of the process up to be recognized as a Green Partner, first, we start by explaining the Management Standards for Environment- Related Substances to suppliers to gain their understanding. Next, as a compatibility survey for internal recognized standards for "Green Partners", we conduct individual surveys regarding legal compliance, in specific, and then suppliers that fulfilled the recognized standards are authorized and registered, and transactions can begin. Dexerials will continue to provide customers with high-quality, safe and reliable products by conducting stable procurement based on relationships of trust with Green Partners.
About "Management Standards for Environment- Related Substances"
Raw materials, parts, or other elements of our products that are judged by Dexerials to have a significant impact on the global environment or human health are defined as "controlled substances" and are managed accordingly. These controlled substances are categorized as (1) substances to be banned immediately, (2) substances to be phased out, or (3) exempted substances. They are also subject to monitoring in order to prevent inclusion in our products or to confirm reduction of their use. Our aims here are to conserve the global environment and reduce our impact on the ecosystem. Even if there are no specifications in these standards with regard to certain substances and uses, we comply with the appropriate laws of each country and region in connection to prohibitions and restricted use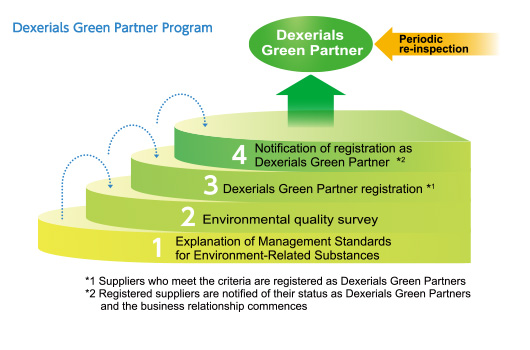 【The Management Standards for the Environment-Related Substances】
Click here for inquiries other than those related to Management Standerds.